News
Heartwarming: Divorced Couple Gets Remarried Years Later in the Unlikeliest of Places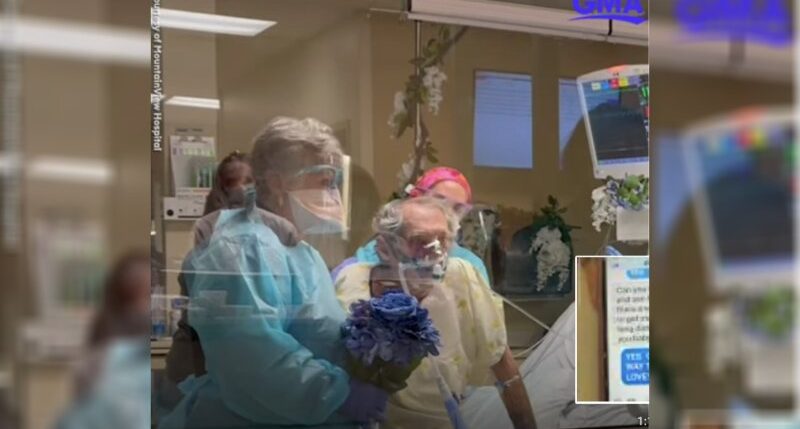 Love found its way to a Las Vegas hospital intensive care unit last week when two former spouses remarried while a patient was suffering from COVID-19.
While under strict COVID restrictions, the patient identified as Eddie D. decided to ask his ex-wife, Patricia M., to marry him again over text message.
Eddie D. was just diagnosed with cancer in October 2021, three months after doctors had told him that he was in remission. After receiving the diagnosis, Eddie also was diagnosed with COVID-19, according to a representative for MountainView Hospital.
Advertisement - story continues below
Eddie and Patricia's story began in the 1970s. Eddie, a 33-year military veteran, and Patricia, a retired nurse, got married but divorced about a year later.
Years passed and the couple moved on with their lives and built their own families.
"We were young and stupid," Patricia explained, according to KLAS-TV. "We divorced in a year but maintained contact over the years."
Watch the video below:

Advertisement - story continues below
After reconnecting a little over five years ago, Eddie, who was living in California at the time, went to Las Vegas after visiting his son to see Patricia and take her out to dinner. After that fateful meeting, they moved in together in 2017.
Now the 74 and 75-year-old have decided to give their love another chance by getting remarried and making it official again.
"We never really thought about getting married again," Patricia said, adding, "We've had five wonderful years."
Last week, the hospital hosted a wedding for the couple. This was the first time Patricia had seen Eddie since he became infected with COVID-19.
Advertisement - story continues below
Eddie and Patricia's story is an example to us all of what 1 Corinthians 13 means when it says, "Love never gives up, never loses faith, is always hopeful, and endures through every circumstance."
"We hope this day was an unforgettable experience for Eddie and Patricia. This is proof that love prevails and that people are stronger together and that there are joyful moments amidst the challenges," Julie Taylor, CEO of MountainView Hospital, said, according to KLAS-TV.
Truth and Accuracy
We are committed to truth and accuracy in all of our journalism. Read our editorial standards.
Comment Down Below
Conversation