News
Eric Adams Responds to AOC After She Criticized His Remarks About 'Low-Skill' Workers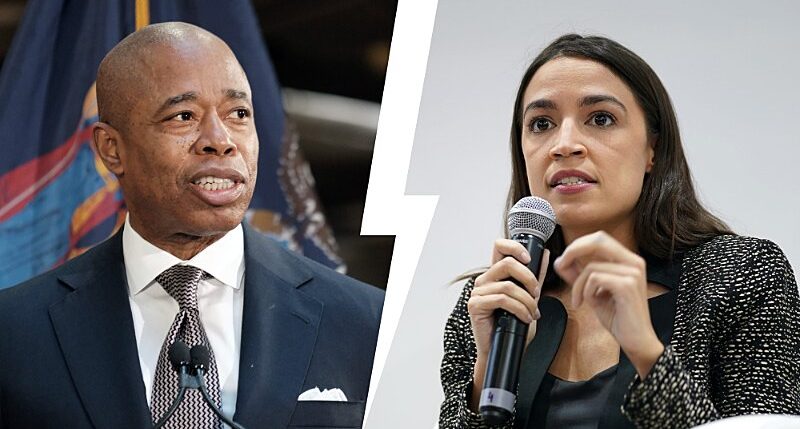 New York City Mayor Eric Adams (D) responded to Rep. Alexandria-Ocasio-Cortez (D-N.Y.) after she took issue with his remarks about "low-skill" workers.
During a press conference earlier this month, Adams said, "I don't know if my businesses are sharing with their employees, 'You are part of the ecosystem of this city.'"
He added, "My low-skill workers, my cooks, my dishwashers, my messengers, my shoe shine people, those that work in Dunkin' Donuts, they don't have the academic skills to sit in the corner office. They need this. We are in this together."
Advertisement - story continues below
Ocasio-Cortez reacted to the comments on Twitter.
In case you missed it:
The suggestion that any job is "low skill" is a myth perpetuated by wealthy interests to justify inhumane working conditions, little/no healthcare, and low wages.

Plus being a waitress has made me and many others *better* at our jobs than those who've never known that life. https://t.co/dhkhBwyNWK

— Alexandria Ocasio-Cortez (@AOC) January 5, 2022
In an interview with The New York Times, Adams told the newspaper he should have used the term "low-wage workers."
Advertisement - story continues below
He claimed Ocasio-Cortez was acting as "word police."
Adams explained, "I would rather be authentic and make errors than be robotic and not be sincere in what they're doing."
He added, "I know they're perfect, and there's not much I can do about that. I can only aspire one day to be as perfect as they are."
Still, the New York City mayor said he wants to work with progressives, including Ocasio-Cortez, on issues such as housing and "ending the cycle of incarceration."
"I can sit there and work with any group," Adams said. "But you don't work with a group by just tweeting."
Advertisement - story continues below
I spoke to Eric Adams about his first week as mayor and how he's approaching Omicron, the schools reopening and his first dispute with AOC.
"It was clear to me that no matter what the heat was and the pressure was… I was going to push forward."https://t.co/VD8OmGYVQE

— Emma G. Fitzsimmons (@emmagf) January 10, 2022
During a previous interview with CBS News, Adams was asked about the comments.
"I was a cook. I was a dishwasher," Adams said, claiming the point he was trying to make was that "when you talk about closing down our city, if you are a dishwasher, you can't remotely do your job."
Adams told the network his goal is to open the city "so low-wage employees are able to survive."
Advertisement - story continues below
He continued, "If no one came into that restaurant when I was paying my way through college, I would not have been able to survive…People are going to try to take everything I say and distort it."
Truth and Accuracy
We are committed to truth and accuracy in all of our journalism. Read our editorial standards.
Comment Down Below
Conversation