Eric Trump Blasts Businesses Cutting Ties With the Trump Organization After Capitol Riot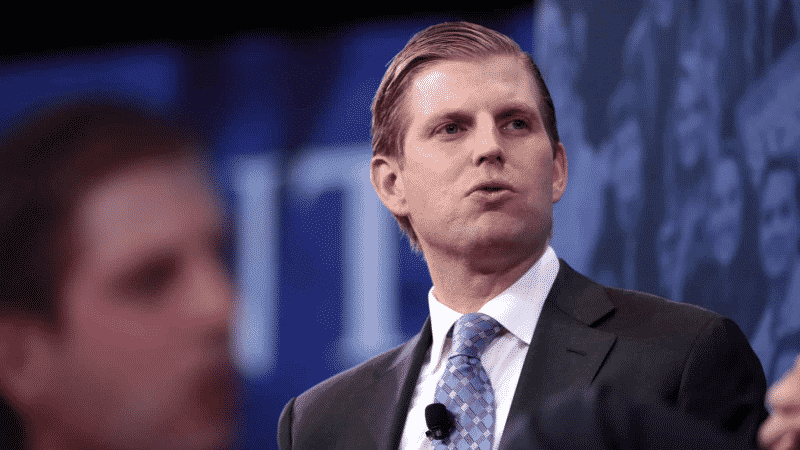 Eric Trump, one of President Donald Trump's sons, is slamming businesses that have cut ties with the Trump Organization following the riot at the U.S. Capitol last week.
"We live in the age of cancel culture, but this isn't something that started this week. It is something that they have been doing to us and others for years," Eric Trump told The Associated Press on Tuesday.
He added, "If you disagree with them, if they don't like you, they try and cancel you."
Eric Trump has been running the family's company alongside Donald Trump Jr. since his father became president in 2016.
He later told the AP, "You have a man who would get followed to the ends of the Earth by a hundred million Americans. He created the greatest political movement in American history and his opportunities are endless."
The AP asked Eric Trump if he believes his father incited the crowd last week. However, the president's son paused and then hung up.
New York City Mayor Bill de Blasio (D) made an announcement on Wednesday where he said on MSNBC that the City of New York is "severing all contracts with the Trump Organization." There are four sites in the city that the Trump Organization has contracts for.
De Blasio said, pointing to the riot that occurred last Wednesday, "Inciting an insurrection against the United States government clearly constitutes criminal activity. The City of New York will no longer have anything to do with the Trump Organization."
The PGA of America also stripped Trump National Golf Club in Bedminster, N.J., of the 2022 PGA Championship.
Additionally, banks and other companies have pulled back on their political contributions to lawmakers following the protests, and Deutsche Bank, Trump's biggest lender, has decided to drop Trump and his companies.