'Everyone Is Being Way Too Emotional': Nikki Haley Calls Impeachment a 'Waste of Time'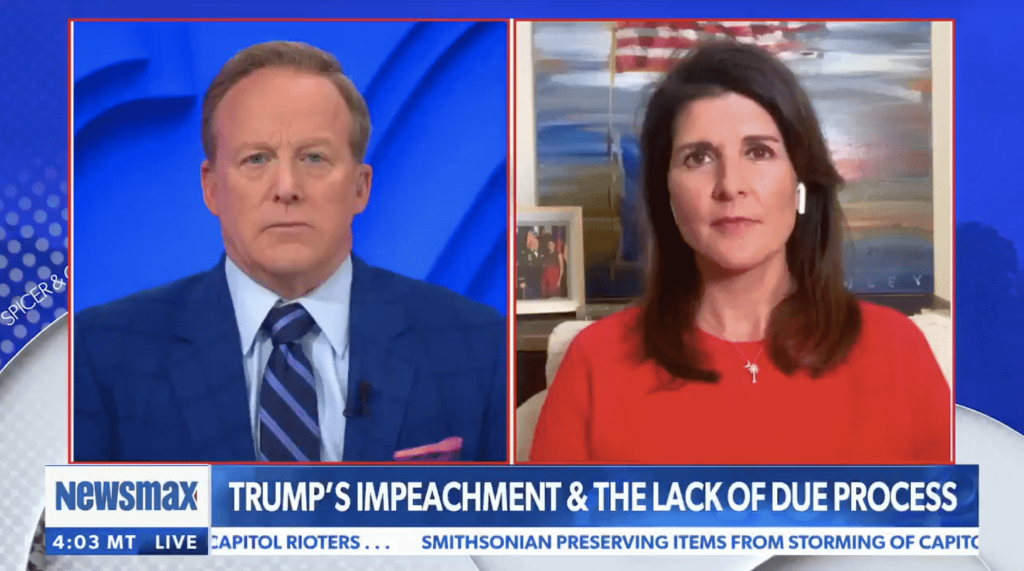 Former Ambassador to the United Nations Nikki Haley is dismissing the latest impeachment effort being mounted against President Donald Trump.
During an appearance on Newsmax on Thursday, Haley said, "I think right now, everyone is being way too emotional. I mean, to have an impeachment on a president that's not even going to be there next week, I don't even know that that's Constitutional.
"But more than that, this is all a waste of energy, its a waste of time, we need to focus on the things that matter," Haley added.
She went on to note the rollout of the COVID-19 vaccine and the delay in getting doses to Americans, the number of students who have fallen behind in their studies due to the pandemic, and the thousands of businesses that are struggling to stay afloat due to the lockdowns meant to curb the spread of the violence.
"And more than that, what I worry about is Russia, China, and Iran are looking at us, seeing us in total chaos, and this is a national security issue. We've gotta form a government… I think the impeachment hearings were a waste of time," she continued.
Finally, she said, "Everyone's just way too emotional, and they've gotta just tamp this down."
Watch the video below:
.@NikkiHaley says "everyone is being way too emotional, this is a waste of energy, its a waste of time, we need to focus on the things that matter." @seanspicer https://t.co/VlT7z8drtO pic.twitter.com/1TkvsaOzUI

— Newsmax (@newsmax) January 14, 2021
The House voted to impeach Trump for "incitement of insurrection" on Wednesday, one week after a pro-Trump mob stormed the Capitol.
The vote marked the first time a U.S. president was impeached twice.
10 House Republicans voted to advance the article of impeachment against Trump. The Senate will hold an impeachment trial to decide whether or not to convict the president on the incitement charge.
However, Senate Majority Leader Mitch McConnell (R-Ky.) said he would not reconvene the chamber until January 19 — one day before President-elect Joe Biden is slated to be sworn in.
The timeline has raised questions about whether the Senate can vote to convict Trump once he leaves office.