News
Ex-Top Obama Economic Adviser Says Biden Admin 'Behind the Curve' in Predictions About Inflation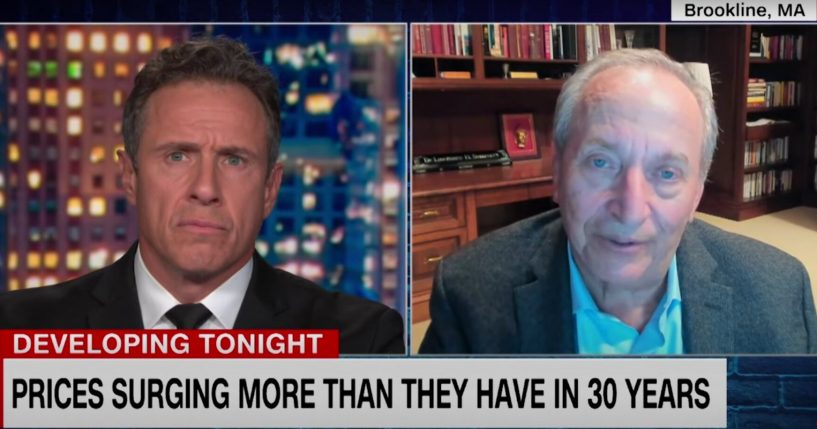 A former top economic adviser to former President Barack Obama suggested the Biden administration "has to be thinking about inflation."
During an interview with CNN Wednesday night, Larry Summers noted the Biden administration's "budget and the administration's forecast with this stimulus was that this year we'd have 2% inflation. And it's likely to come in three times that."
The economist continued, "I think they're just not recognizing just how much demand is being created by the tremendous wall of money."
Advertisement - story continues below
Summers explained the "policymakers in Washington unfortunately have almost every month been behind the curve."
He added, "They said it was transitory, it doesn't look so transitory. They said it was due to a few specific factors, doesn't look to be a few specific factors. They said when September came and people went back to school, that then labor force would grow, and it didn't happen."
Summers said his experience is "that you should hope for the best and plan for something much less than the best. I think that means stronger actions by the Fed, it means the administration has to be thinking about inflation."
Watch the interview below:
Advertisement - story continues below
The former adviser acknowledged the Biden administration's efforts to "decongest the ports and to get more through the ports."
Has the Biden administration been behind the curve?
When asked about the spending bill, Summers replied, "The ten years of the two spending bills together A, are less than the one year of what they did last spring and B, unlike what they did last spring, are paid for by tax increases."
He went on, "I don't think that's an inflation problem. I think a lot of it is vitally needed investments in the future of our country."
According to CNN, prices in the United States are surging more than they have in the past 30 years. The White House released a statement Wednesday responding to reports on inflation.
Advertisement - story continues below
"Inflation hurts Americans pocketbooks, and reversing this trend is a top priority for me," the statement reads.
It continues, "The largest share of the increase in prices in this report is due to rising energy costs—and in the few days since the data for this report were collected, the price of natural gas has fallen."
Biden said he has "directed my National Economic Council to pursue means to try to further reduce these costs, and have asked the Federal Trade Commission to strike back at any market manipulation or price gouging in this sector."
The president said he wanted to emphasize his "commitment to the independence of the Federal Reserve to monitor inflation, and take steps necessary to combat it."
Truth and Accuracy
We are committed to truth and accuracy in all of our journalism. Read our editorial standards.
Comment Down Below
Conversation