News
'What a Moron': Fauci Caught On Hot Mic Trashing GOP Senator During Hearing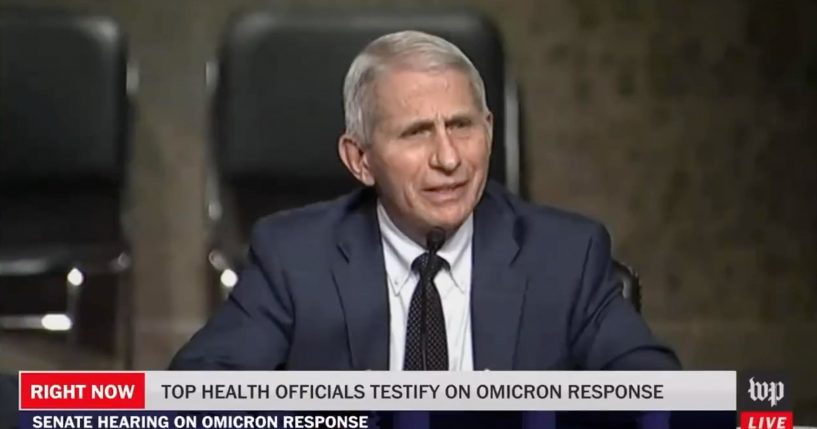 Dr. Anthony Fauci was heard on a mic apparently exasperated at a Republican senator for asking a question he said was based on "amazingly wrong information" about his financial disclosures.
Sen. Roger Marshall (R-Kans.) asked Fauci during a Senate hearing on Tuesday if he would "be willing to submit to Congress and the public a financial disclosure that includes your past and current investments."
"I don't understand why you're asking me that question," Fauci responded. "My financial disclosure is public knowledge and has been so for the last 37 years or so."
Advertisement - story continues below
Marshall claimed that "the big tech giants are doing an incredible job of keeping it from being public."
"Where would we find it?" he asked.
Fauci said, "All you have to do is ask for it."
"You're so misinformed it's extraordinary," he added.
Advertisement - story continues below
When Marshall raised the prospect that "shenanigans" may be going on, the infectious disease expert shot back, "Senator, what are you talking about? My financial disclosures are public knowledge and have been so."
Marshall insisted that his staff could not find Fauci's disclosure information.
"You are getting amazingly wrong information," he added. "It is totally accessible if you want it…You are totally incorrect."
Watch the video below:
Here's the video of Fauci calling Kansas Sen. Roger Marshall a moron after an exchange about Fauci's financial disclosures. pic.twitter.com/pKHpGQAF6m

— Daniel Desrochers (@drdesrochers) January 11, 2022
Advertisement - story continues below
As Sen. Patty Murray (D-Wa.) interjected to note that Fauci's financial disclosures are public information, Fauci could be heard saying, "What a moron, Jesus Christ."
Earlier in the hearing, Fauci clashed with Sen. Rand Paul (R-Ky.) after the Kentucky senator asked him about a report that he tried to discredit an alternative response to the COVID-19 pandemic, as IJR reported.
"I think in usual fashion, senator, you are distorting everything about me," he told Paul.
He added, "This happens all the time. You personally attack me and with absolutely not a shred of evidence of anything you say…He's doing this for political reasons."
Truth and Accuracy
We are committed to truth and accuracy in all of our journalism. Read our editorial standards.
Comment Down Below
Conversation