FBI Agents Association Pleads With Trump and Biden To Keep Christopher Wray as Director for 10 Years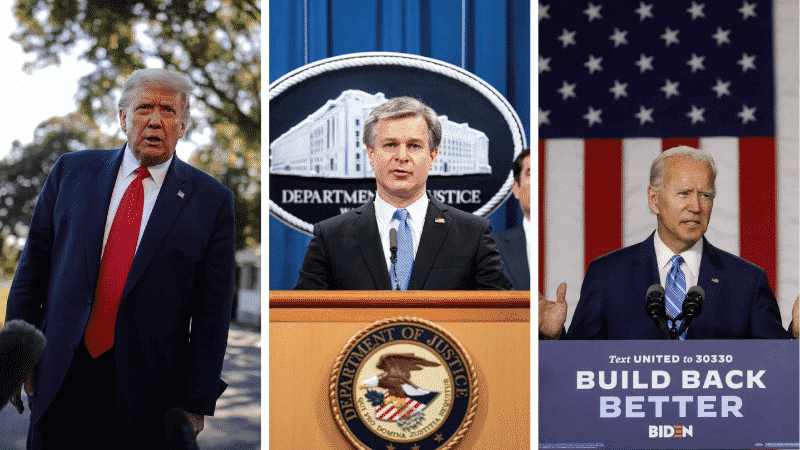 President Donald Trump is reportedly considering cutting short the tenure of FBI Director Christopher Wray if he wins re-election.
That would make Wray the second FBI director to be fired within the standard 10-year term for the head of the nation's premier law enforcement agency.
Now, the Federal Bureau of Investigation Agents Association (FBIAA) is writing to Trump and Democratic presidential nominee Joe Biden to implore whoever wins the general election to keep Wray on for the remainder of his term.
In a letter to the two contenders, FBIAA president Brian O'Hare said, "I write today to respectfully request that, should you win the upcoming election, you maintain the stability, credibility, and integrity of the Bureau by ensuring that FBI Director Christopher Wray completes his statutorily-created, ten-year term."
O'Hare noted that the FBIAA is "the only organization that serves as the voice for active FBI" agents and that "our members strongly support Director Wray continuing his ten-year term."
"FBI Special Agents respect Director Wray's leadership and look forward to continuing to work with him to protect this great country from national security and criminal threats," he added.
O'Hare praised Wray's work to make sure that the agency "conducts investigations in an impartial way and in compliance with the law and the Constitution."
He also said that Wray "operates independently from partisan activities."
Read the letter below:
NEW >> FBI Agents Association writes to @realDonaldTrump & @JoeBiden that no matter who wins #Election2020…

FBI Director Chris Wray should complete 10 year term for "the stability, credibility, &integrity of the Bureau."

This, as Trump mulls firing Wray if he wins re-election pic.twitter.com/DQZgITmHVr

— Mike Valerio (@MikevWUSA) October 28, 2020
"While the President can remove an FBI Director, doing so could lead to instability and damage to the Bureau's operations, which is why Congress intended to insulate the position of Director from political whims," he added.
O'hare said that "unanticipated changes" in the leadership of the agency can make it "more difficult to effectively protect our country."
To underscore the impact a leadership change could have, he noted that Congress and former President Barack Obama pushed to extend former FBI Director Robert Mueller's term by two years.
At the time, the Senate Judiciary Committee said the extension was wise because it was during a "time of considerable change in leadership in key national positions."
"Right now, the FBI is confronting an even more daunting threat environment than in 2011," O'Hare said as he noted the threat of cyber attacks, espionage, foreign and domestic terrorist plots, and "traditional crimes."
Additionally, he noted that the Senate Judiciary Committee warned presidents against removing FBI directors "merely for the reason that a new President desires his 'own man' in the position."
Trump appointed Wray in 2017 after he fired former FBI Director James Comey due to his handling of the Russia investigation.
While Trump appointed Wray, he has not avoided criticizing him. In an interview on Fox News, the president called Wray "disappointing."