News
Flashback: Biden Said Cuomo Should Resign if Investigation Found He Sexually Harassed Women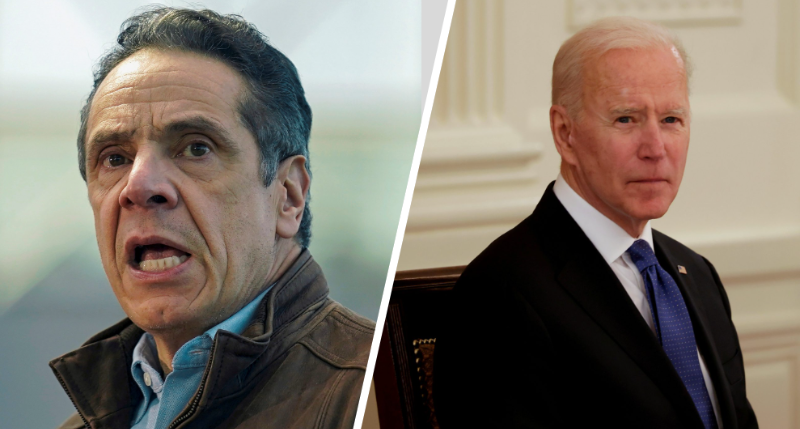 New York Gov. Andrew Cuomo (D) is facing renewed calls to resign following a bombshell report that found he sexually harassed several women.
Shortly after New York Attorney General Letitia James (D) released the findings of an investigation into allegations of sexual harassment on Monday, some Twitter users began sharing a months-old video of President Joe Biden weighing in on whether the governor should resign.
During a March interview with ABC News, Biden was asked, "If the investigation confirms the claims of the women, should he resign?"
Advertisement - story continues below
"Yes, I think he'd probably end up being prosecuted too," Biden responded.
Watch the video below:
President Biden in March: If the investigation confirms Andrew Cuomo sexually harassed women, he should resign and "he'll probably end up being prosecuted, too." pic.twitter.com/LBK3BK3Xmr

— The Recount (@therecount) August 3, 2021
The report released by James found that Cuomo "sexually harassed a number of State employees through unwelcome and unwanted touching, as well as by making numerous offensive and sexually suggestive comments."
Advertisement - story continues below
The report continued:
"We also find the Executive Chamber's response to allegations of sexual harassment violated its internal policies and that the Executive Chamber's response to one complainant's allegations constituted unlawful retaliation. In addition, we conclude that the culture of fear and intimidation, the normalization of inappropriate comments and interactions, and the poor enforcement of the policies and safeguards, contributed to the sexual harassment, retaliation, and an overall hostile work environment in the Executive Chamber."
Cuomo has denied any wrongdoing but apologized if his behavior made women feel "uncomfortable." The New York governor also said he would not resign.
And in April Cuomo claimed the investigation would not find that he harassed women because, "I didn't do anything wrong."
Additionally, he argued that his behavior did not constitute harassment, "Harassment is not making someone feel uncomfortable. That is not harassment. If I just made you feel uncomfortable, that is not harassment. That's you feeling uncomfortable."
Advertisement - story continues below
As of Tuesday morning, Cuomo has not been criminally charged with wrongdoing.
Truth and Accuracy
We are committed to truth and accuracy in all of our journalism. Read our editorial standards.
Conversation