George Floyd's Brother Denounces Violence: 'Do This Peacefully'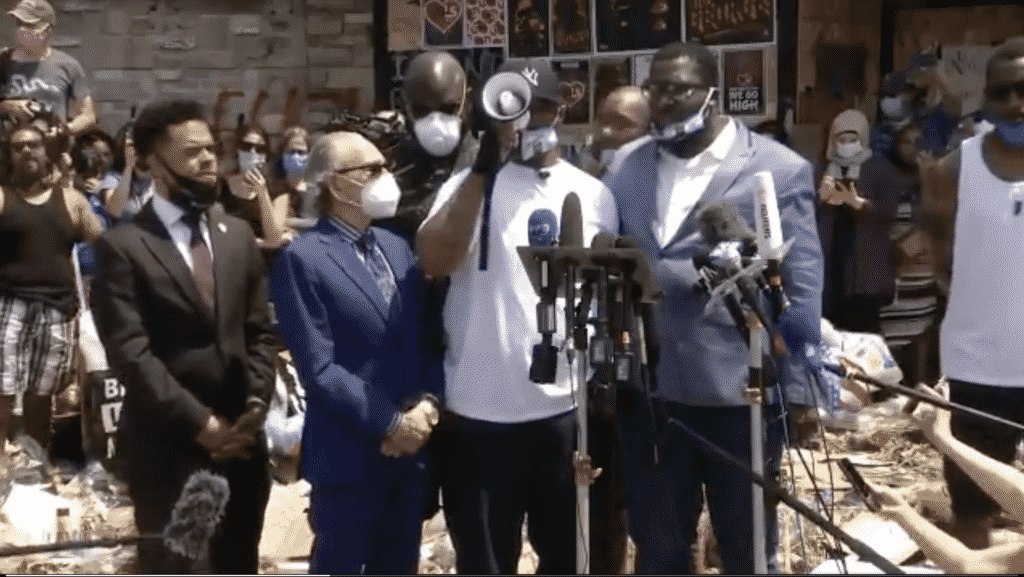 Speaking at the spot where George Floyd died, his brother — Terrence Floyd — urged protesters to "switch it up" and refrain from violence. 
"Let's switch it up, do this peacefully … please," Terrence said at a memorial for his brother in Minneapolis.
"[George Floyd] was good. I know he would not want y'all to be doing this," he added.
Additionally, Terrence continued to slam those who participated in violent demonstrations, "What are y'all doing? Y'all doing nothing. Because that's not going to bring my brother back at all. It may feel good for the moment — just like when you drink — but when it comes down, you're going to wonder what you did."
"My family is a peaceful family. My family is God-fearing. Yeah we're upset, but we're not going to take it," he said.
Watch the video below:
WATCH: Full speech by George Floyd's brother, Terrence Floyd, at site of George Floyd's death. pic.twitter.com/piEcnilzCb

— NBC News (@NBCNews) June 1, 2020
"Let's do this another way," he said, adding, "Let's stop thinking that our voice don't matter and vote. Not just vote for the president but for the preliminaries."
He added, "Educate yourself and know who you're voting for. And that's how we're going to hit 'em."
George Floyd, an unarmed black man, died on May 25 after a police officer placed his knee on Floyd's neck for several minutes and pinned him to the ground.
In a video of the incident, Floyd can be heard saying, "I can't breathe."
The officer who was seen pinning Floyd to the ground was fired and charged with murder and manslaughter.
In the wake of his death, protests have sprung up around the country. Many started as peaceful demonstrations, but as night fell, violence broke out across several cities. 
During remarks on Saturday, President Donald Trump denounced the violence, "What we are seeing now on the streets of our cities has nothing to do with justice or with peace."
"Those making excuses or justification for violence are not helping the downtrodden, but delivering new anguish and new pain," he added.
While Trump denounced the violence in his speech on Saturday, several politicians have said that Trump's tweets have fueled "racist hate and violence."
In a call with Trump, Illinois Gov. J.B. Pritzker (D) said, "It's been inflammatory."
He continued, "We have to call for calm. We have to have police reform called for. We've called out our national guard and our state police, but the rhetoric that's coming out of the White House is making it worse."
Atlanta Mayor Keisha Lance Bottoms (D) also said that Trump's comments were inflaming tensions, "He should just stop talking."
She added, "This is like Charlottesville all over again, He speaks, and he makes it worse. There are times when you should just be quiet. And I wish that he would just be quiet."