News
Former DeSantis Staffer Claims the Governor Slams Trump in Private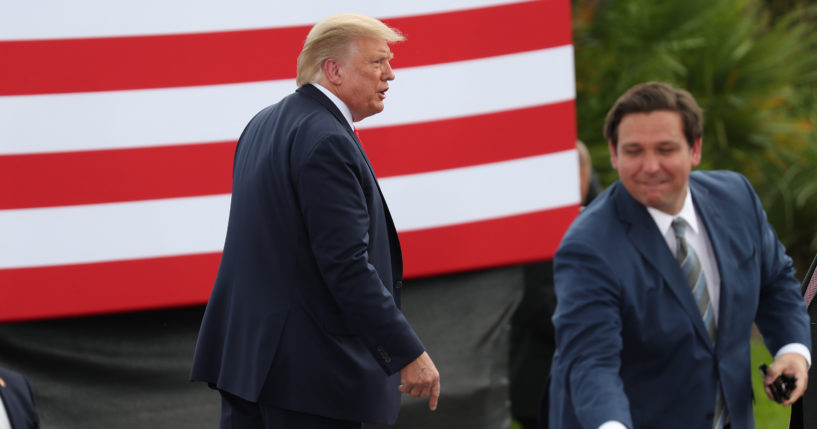 A former staffer for Florida Gov. Ron DeSantis (R) claims the governor takes shots at former President Donald Trump behind closed doors.
Variety's special correspondent Gabriel Sherman published an article for the publication titled, "Ron DeSantis: The Making and Remaking (And Remaking) of a MAGA Heir."
Sherman noted, so far, "The DeSantis-Trump smackdown has been unfolding off camera. But it likely won't stay that way."
Advertisement - story continues below
He continues, "DeSantis in private trashes Trump."
"He calls him a TV personality and a moron who has no business running for president," a former DeSantis staffer said, per Sherman.
According to Sherman, "DeSantis tells donors that, if he takes on Trump, he would launch a full frontal attack on his record and competence, according to a GOP source briefed on the conversations."
Additionally, the GOP source explained DeSantis "says the only way to beat Trump is to attack him head-on. He says he would turn to Trump during a debate and say, 'Why didn't you fire Fauci? You said you would build the wall, but there is no wall. Why is that?'"
Advertisement - story continues below
Trump reportedly "vents about DeSantis constantly, according to people who speak with him."
A friend of the former president told Sherman he says DeSantis is "overrated, disloyal, and a know-nothing."
Sherman suggested Trump's "animus is fueled by his (not incorrect) belief that he put DeSantis in the governor's mansion. In conversations, Trump reminds people that then congressman DeSantis was losing by double digits during the 2018 gubernatorial primary until Trump backed him."
Sources argue it "galls Trump that DeSantis hasn't acknowledged the boost Trump provided, aside from a cursory acknowledgement in his victory speech," as Sherman writes.
One prominent Republican told Sherman that Trump tells people, "I made Ron," adding, "Trump says that about a lot of people. But in this case it's actually true."
Advertisement - story continues below
Last week, the USA Today-Suffolk University poll found DeSantis is ahead of Trump in a hypothetical GOP presidential primary for the governor's state by eight points.
David Paleologos, the director of the Suffolk University Political Research Center, pointed out DeSantis's lead is "one data point suggesting a shift in preferences from GOP voters away from Trump and toward DeSantis from Republicans who know both potential combatants quite well."
The poll was conducted from September 15 to 18 and surveyed 500 likely midterm election voters.
Truth and Accuracy
We are committed to truth and accuracy in all of our journalism. Read our editorial standards.
Comment Down Below
Conversation