News
Former Fox News Host Gretchen Carlson Criticizes Network: Pushes 'Fake News'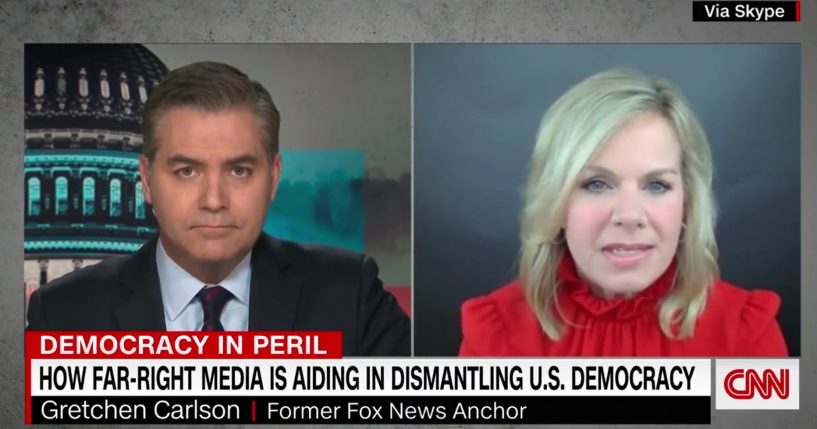 Former Fox News host Gretchen Carlson is taking aim at the network, saying it pushes "fake news."
During an appearance on CNN, Jim Acosta played a clip of Tucker Carlson asking, "Why would we take Ukraine's side and not Russia's side?"
Acosta proceeded to ask Gretchen Carlson, "Why do you think Tucker does this? And why do the Murdochs allow it? Do they not even care, or is it just about money and ratings do you think?"
Advertisement - story continues below
She replied, "Ratings, I think, first and foremost. But this is the result of fake news. You know, we're seeing not only the fallout from fake news during the Trump era, but what happened with the insurrection on January 6. And now it's moving into other areas, not just news. Now it's hitting science with vaccines. And now it's into Cold War politics."
The former Fox News host continued, "I mean, the idea that we would be talking about whether or not we should support Ukraine or Russia, there wouldn't be a Republican on the planet that five years ago would have said they would have supported Russia over Ukraine. But this is where we are now. Conservative television news is certainly not the conservative news that was out there even just five years ago."
Check out her comments below:
"There is a big difference between having a conservative opinion and having one that supports conspiracy theories" @GretchenCarlson on how the far-right media is aiding in dismantling the US democracy. pic.twitter.com/ggFmgNNU4Q

— CNN Newsroom (@CNNnewsroom) January 28, 2022
Advertisement - story continues below
Mentioning the January 6 riot at the U.S. Capitol, Acosta asked Gretchen Carlson about text messages Fox News anchors sent to White House Chief of Staff Mark Meadows.
"Does this surprise you that Fox anchors would be advising a president, advising a White House?" Acosta asked her.
She responded, "Not necessarily. I'm not sure that it doesn't happen on the other side as well, depending on who happens to be in the office."
Gretchen Carlson continued, "But I think the bigger story coming out of that is how disingenuous it was to be sending those texts of warning while then going on the air to the American people and doing a complete injustice and disservice by saying something completely opposite, and ginning up this whole reaction that it was just fine and patriotic for people to be there on January 6."
She suggested that "this has morphed into eradicating any other point of view since the Trump era that is not just opinion."
Advertisement - story continues below
In 2016, Gretchen Carlson sued her former boss, Roger Ailes, for sexual harassment. The network settled with her for $20 million.
Truth and Accuracy
We are committed to truth and accuracy in all of our journalism. Read our editorial standards.
Comment Down Below
Conversation