Commentary
Gallup Poll Finds Record Number of Americans Considered 'Suffering' Under Biden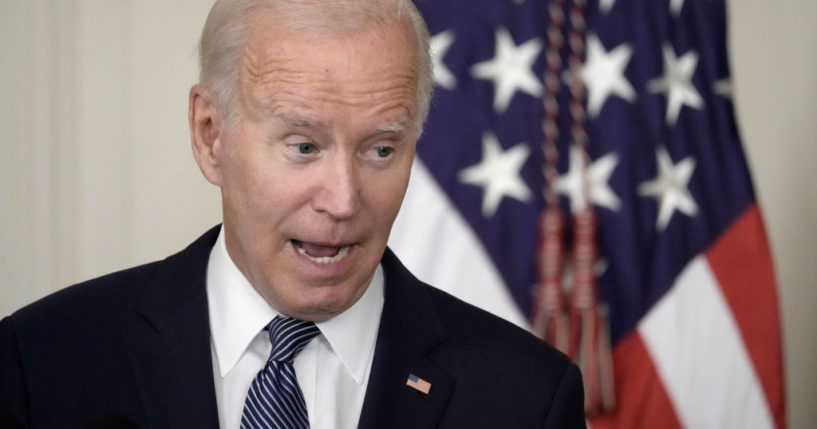 While Democrats are starting to feel some optimism about the November midterm elections, a record number of Americans are reporting that they consider themselves to be "suffering."
A poll released by Gallup on Monday found that the number of Americans who "evaluate their lives poorly enough to be considered 'suffering' on Gallup's Life Evaluation Index," hit 5.6% in July — surpassing the previous high of 4.8% that was set in April.
That number was also "statistically higher than all prior estimates in the COVID-19 era."
Advertisement - story continues below
The polling outlet explained, "For its Life Evaluation Index, Gallup classifies Americans as 'thriving,' 'struggling' or 'suffering,' according to how they rate their current and future lives on a ladder scale with steps numbered from 0 to 10, based on the Cantril Self-Anchoring Striving Scale. Those who rate both their current and future lives a 4 or lower are classified as suffering. Those who rate their current life a 7 or higher and their anticipated life in five years an 8 or higher are classified as thriving."
https://twitter.com/GallupNews/status/1561684767631867906
Gallup started measuring how Americans rate their lives in 2008. At the time, 3.8% of Americans were considered suffering.
Broken down by party affiliation, the survey found that suffering doubled among Republicans since June, 2021. And it almost doubled among Democrats as well during that same period.
Advertisement - story continues below
Meanwhile, those considered suffering among independents hit 4.7% in June 2021. The number spiked to 7.3% in April 2022 and dipped to 6.2% in July.
During that same period, the number of Americans who report experiencing stress increased — however it did not reach the 60% that was recorded in March 2020.
"The 5.6% suffering rate in July marks the first time the Gallup measure has exceeded 5% in the U.S. and translates to an estimated 14 million American adults," Gallup noted.
It continued to note that despite a strong jobs report in July, "Persistently high inflation is creating a drag on the Gallup Economic Confidence Index, which is now at its lowest point since the Great Recession in 2009."
"Inflation remains near a 40-year high and is the problem Americans cite most often today in an open-ended question. The practical consequences of inflation, too, are substantial, with an estimated 98 million Americans cutting spending on healthcare or routine household expenses as a result of rising healthcare costs," it added.
Advertisement - story continues below
Gallup also pointed to a "rising discontentment with U.S. moral values."
The survey was conducted from July 26 to Aug. 2, 2022.
In recent weeks, Democrats have felt a sense of optimism about the 2022 midterm elections as polls show Democrats leading Republicans in key Senate races. At the same time, gas prices have fallen over the summer, and Democrats were able to notch a couple of legislative victories.
While some aspects appear to be improving, inflation hit 8.5% in July, down from 9.1% in June but still near a four-decade high.
Advertisement - story continues below
Additionally, President Joe Biden's approval rating sits at 40.9%, while 54.3% disapprove, according to FiveThirtyEight.
It's possible that gas prices and inflation have hit their peak and will continue to decrease through November, which might spare Democrats from electoral disaster.
But having a record number of Democrats and Republicans reporting that they were "suffering" in July, as gas prices were declining, despite not officially being in a recession, does not seem like a recipe for a good year for the party in power.
Truth and Accuracy
We are committed to truth and accuracy in all of our journalism. Read our editorial standards.
Comment Down Below
Conversation