News
George Clooney Reflects on Who Trump Was Before His Presidency: 'A Guy Who Was Chasing Girls'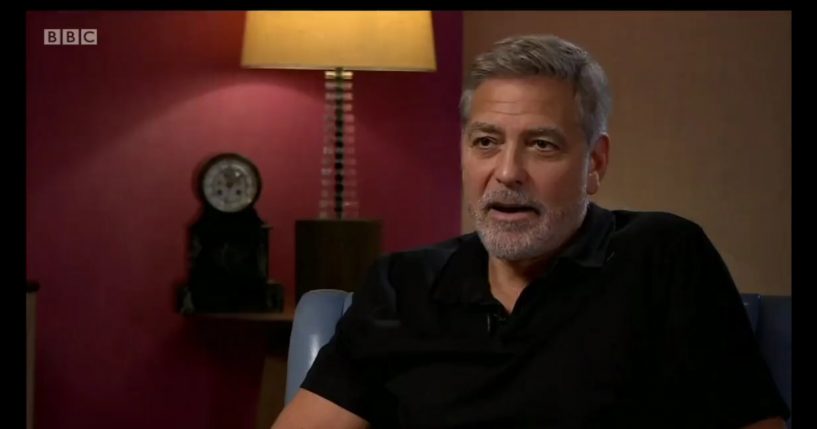 George Clooney spoke out about who he knew former President Donald Trump as before his time at the White House.
During an interview on the BBC's "The Andrew Marr Show," Clooney predicted Trump is "going to be a factor for a while," adding, "I knew him before he was a president, he was just a guy who was chasing girls. Every time you went out he'd come over and be like, 'What's the name of that girl?' That's all he was."
He continued, "The idea that there's this whole group of people that they think he's the champion of — which he certainly can't stand in real life — but he's going to play this out for awhile, and we'll see where we go with it as a country."
Advertisement - story continues below
Clooney said his hope is "we have a little better sense than to do that again."
Watch part of the interview below:
Kentuckian George Clooney discussing Trump on BBC.

A "knucklehead" who "chased girls".

Says the former guy can't stand the people who worship him…pic.twitter.com/K8X3KmlHzu

— Rex Chapman🏇🏼 (@RexChapman) October 10, 2021
Weighing in on the Biden administration's performance, Clooney explained, "It's like taking a battered child and thinking everything's going to be OK his first day in school."
Advertisement - story continues below
He suggested there are "a lot of things that have to be repaired, you know? There's a lot of healing that has to happen and it's going to take time."
Additionally, the actor commented on Biden's sliding poll numbers.
"Poll numbers come up and go down, I would expect them to go up again," Clooney said. "Donald Trump's went up and down."
Fox News reported the president's average approval rating among voters has continued to decrease since June, standing at around 38%.
During an interview with Yahoo Finance earlier this month, Trump said he would "beat everyone else" in the 2024 Republican primary, as IJR reported.
Advertisement - story continues below
The former president has not made any official announcements on his plans for 2024. According to The Washington Post, "Instead of a presidential campaign announcement, Trump, 75, has settled on a strategy of winks and nods."
Truth and Accuracy
We are committed to truth and accuracy in all of our journalism. Read our editorial standards.
Conversation