Georgia Lt. Gov. Says State's Voting Law Not the 'Best Move Forward'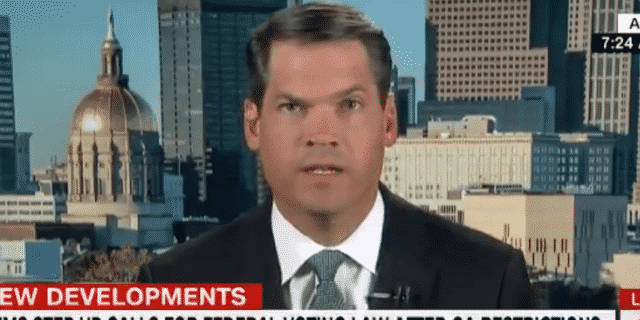 Georgia Lt. Gov. Geoff Duncan (R) is touching on the state's voting law recently signed into law, saying the state's leaders "could have waited a little longer."
"I don't think it was the best move forward," Duncan said during Monday's CNN "New Day" interview, adding, "I think we could have waited a little longer."
Earlier in the interview when asked if he supports the new law, Duncan said that the messaging has been "controlled" by the "outside edges of both parties."
He added, "We've got folks on the far-right that are trying to claim this as some sort of calculated response to the great hoax that played out for 10 weeks. And you've got folks on the left that are claiming this to be some great overreach of voter suppression."
Watch the interview below:
"I don't think it was the best move forward… I think we could have waited a little longer," says GA Lt. Gov. Geoff Duncan on the state passing a restrictive voting law. He added Republicans should acknowledge Trump lost the 2020 election fairly to gain credibility on the issue. pic.twitter.com/hTyE2WTBoN

— New Day (@NewDay) March 29, 2021
Additionally, the state's lieutenant governor said during the interview, "Look, I think, as Republicans, we have a hard time having credibility when we walk in a room and talk about election reforms because of the way the 10 weeks played out."
He later added that the "best way" for Republicans to start to have a conversation around election reform "is to walk in a room and say, 'Former President Donald Trump lost the election fair and square. Now, let's talk about ways to improve elections going forward.'"
Georgia enacted broad voting restrictions last week, which include banning giving water and food to people standing in line waiting to vote, limiting drop boxes, and imposing stricter identification requirements, among other limits. Civil rights groups have joined together to sue, in challenging the new voting restrictions.
President Joe Biden called Georgia's new voting law "a blatant attack on the right to vote, the Constitution, and good conscience."
He also said, "It's Jim Crow in the 21st Century — and it must end."
Georgia Gov. Brian Kemp (R) pushed back on Biden's remarks, telling The Hill, "There is nothing 'Jim Crow' about requiring a photo or state-issued ID to vote by absentee ballot — every Georgia voter must already do so when voting in-person," adding, "President Biden, the left, and the national media are determined to destroy the sanctity and security of the ballot box."