News
Giuliani Responds To Accusations He Was Drunk During 9/11 Speech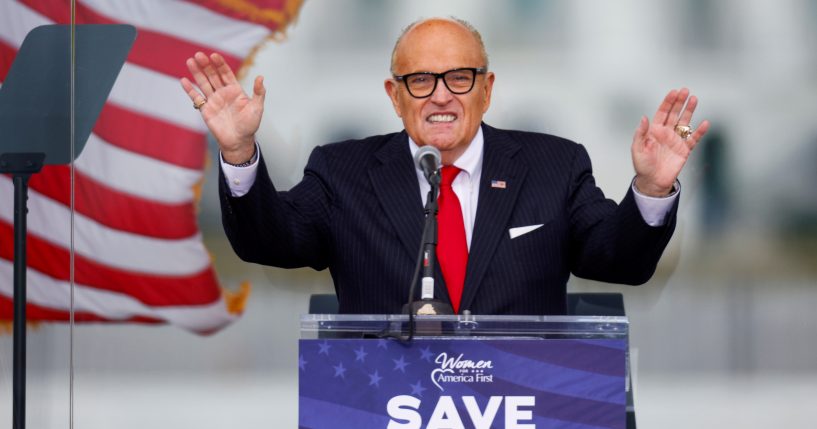 Former New York City Mayor Rudy Giuliani denied he was drunk during a speech on the 20th anniversary of the 9/11 terror attacks.
Several Twitter users questioned whether he was drunk after he delivered a rambling, nearly incoherent speech.
During a Sunday interview with DailyMail.com, Giuliani told the publication, "Yes I had a Scotch. But I was not drunk. There is a deliberate attempt [by] the left wing to paint me that way."
Advertisement - story continues below
Giuliani also said he was not mocking Queen Elizabeth during the speech when he spoke in a fake English accent and said, "You did a wonderful job on Sept. 11. And therefore I'm making you an honorary knight, commander of the royal something or other."
He added, "That was a serious speech. To say I mocked anybody is outrageous. And that I was drunk is completely, completely wrong."
Giuliani reiterated he was not drunk, saying, "I am not a drunk. I don't think I've ever [been] publicly drunk in my life. The last time I was – was probably in college. I like to drink Scotch and have cigars. That's where it probably comes from."
He continued, "I drink moderate amounts of Scotch. I mostly drink Scotch because I like to have it with cigars. I didn't have a cigar last night. And this is a caricature that the left is trying to put on me … I can't remember the last time that I was drunk. And I'm not just going to put up with it anymore. I've got to do something about it."
Advertisement - story continues below
The publication pressed Giuliani on a comment he made to NBC last month where he said he did not have a drinking problem and called himself "functioning."
The former New York City mayor said he is "not an alcoholic. I use the word functioning, I don't know why I used the word functioning. I am not an alcoholic. I am 77 years old. I've never been an alcoholic. I've never been treated for alcoholism. I have worked every day of my life. The longest time I ever took off was for COVID."
Claiming he would be "fricking dead by now" if he was an alcoholic, Giuliani explained, "It is [a] complete lie. I'm on television all the time. I'm as lucid as you can be. I'm not demented like Joe Biden. I can go before the Supreme Court … I have already many times. I write. I do a podcast twice a week. I do a radio show … five times a week."
He went on, "I answer questions from people constantly. I'm probably one of the sharpest guys you're ever going to meet. And you want to put me in a court room and I'll kick the s*** out of anybody. I am not an alcoholic."
Watch part of his speech below:
Advertisement - story continues below
I'm not sure I have ever seen someone give a speech at a formal occasion as drunk as Rudy Giuliani is right now at the 9/11 dinner. pic.twitter.com/54G5oCuBe3

— Ron Filipkowski (@RonFilipkowski) September 12, 2021
According to New York Times journalist Maggie Haberman, the dinner took place at one of the Cipriani restaurants in New York City.
Truth and Accuracy
We are committed to truth and accuracy in all of our journalism. Read our editorial standards.
Comment Down Below
Conversation