News
Whoopi Goldberg, Joy Behar Defend Biden After Cursing at Fox Reporter: 'Sometimes You Just Lose It'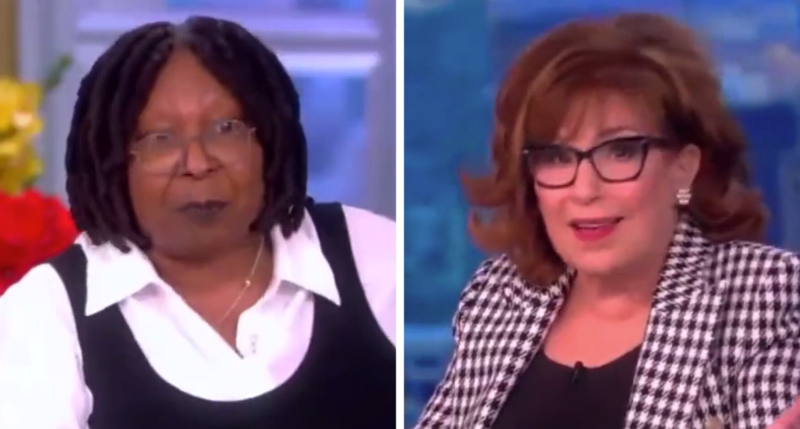 Two co-hosts of ABC's "The View" defended President Joe Biden after he called Fox News' Peter Doocy a "stupid son of a b****."
On Tuesday, guest co-host Lisa Ling criticized Biden over the incident because "he named-called" and "it's not like he just dismissed it as a dumb question."
"As a mom to young kids, these are the people who should be setting examples for our kids and it's like yet more examples of men behaving badly and mothers eventually having to clean it up because it's giving license to kids," she added.
Advertisement - story continues below
Co-host Sunny Hostin said, "It's sort of beneath the dignity of the presidency."
"But what I appreciate is that he called and apologized. That's something that we would have never heard the former, you know, twice-impeached, disgraced president of this country do," she added.
Doocy revealed on Monday night that the president called him to clear the air after the incident, as IJR reported.
Ling suggested that Biden "should apologize to everyone."
Advertisement - story continues below
Meanwhile, co-host Joy Behar claimed Doocy will "lose his job at Fox" since Biden called him to apologize. She added, "He's not clutching his pearls and yelling about it. He'll be fired."
"It's sort of beneath the dignity of the presidency." — #TheView's @sunny on President @JoeBiden calling Fox News' Peter Doocy "a stupid son of a b*tch" pic.twitter.com/OBKNN6Mfwh

— Mediaite (@Mediaite) January 25, 2022
When Ling said she thinks Biden should "acknowledge that he was a poor example," Whoopi Golberg interjected, "He should acknowledge he's human because that happens sometimes when people ask you endless stupid questions from one particular place. And sometimes, you just lose it for a second."
"The difference is he said, 'Okay, let me call him and apologize.' Because that happens, and I think for me that is the representation of what a human being as president should be," she added.
Behar chimed in, "It points out the difference between Biden and Trump. Because Trump, let us not forget, said that the press is the enemy of the people…So, okay, stupid S.O.B, he says. It's nothing compared to what Trump said or did."
Advertisement - story continues below
The View hosts defend Joe Biden for verbally abusing a reporter. pic.twitter.com/jPhACOsqC0

— The Post Millennial (@TPostMillennial) January 25, 2022
Ling argued that the guests "can't keep comparing [Biden] to Trump."
While Ling said there were "stupid questions," she added, "[Doocy] was asking about inflation, which is a real issue, and the midterm elections, which are right around the corner. It's not like he was asking about something conspiratorial."
Golberg suggested that Doocy "got what he wanted" by asking a question that "wasn't worthy of him asking it."
Advertisement - story continues below
Finally, Hostin said, "We have to hold him accountable for his behavior."
"'[Biden is] not Charles Manson," Behar shot back.
Truth and Accuracy
We are committed to truth and accuracy in all of our journalism. Read our editorial standards.
Comment Down Below
Conversation