News
GOP Lawmaker Targets Adam Schiff With 'PENCIL' Resolution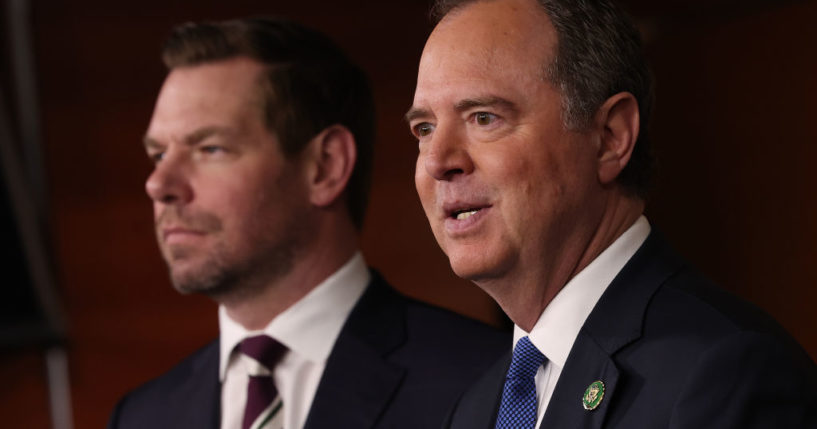 A House Republican is seeking to block Rep. Adam Schiff (D-Calif.) from having access to classified information.
In a press release on Thursday, Rep. Matt Gaetz (R-Fla.) unveiled the Preventing Extreme Negligence with Classified Information Licenses Resolution or the "PENCIL Resolution."
The release explained the measure "expresses the sense of the U.S. House of Representatives that Congressman Adam Schiff (CA-30) should not have access to classified information, should be investigated by the House Ethics Committee, and should have his comments made during any proceeding of Congress regarding Russian Collusion and the Trump campaign be officially struck from the record."
Advertisement - story continues below
Gaetz said, "Congressman Adam Schiff led the effort for years to weaponize lies from the Clinton campaign and a corrupt Department of Justice to smear President Trump while destroying any trust the country had left in America's intelligence agencies."
"Speaker McCarthy kept his promise to remove Rep. Schiff from the Intelligence Committee, and with the PENCIL Resolution, we will express the sense of Congress that he should be barred from accessing any classified information at all," he continued. "He can no longer be trusted by his colleagues in Congress or the American people."
BREAKING: Matt Gaetz files the "PENCIL" resolution which would ban Adam Schiff from accessing classified information.

Do you support this?

— Collin Rugg (@CollinRugg) January 26, 2023
The resolution's acronym seems to reference former President Donald Trump's nickname for the California Democrat, "Little Pencil Neck."
Advertisement - story continues below
Earlier this week, House Speaker Kevin McCarthy (R-Calif.) blocked Schiff, the former intelligence committee chairman, from continuing to serve on the panel.
He argued Schiff "lied to the American public" during his time on the committee.
Do you want to see this resolution pass?
McCarthy explained:
"Even the inspector general said it. When Devin Nunes put out a memo, he said it was false. When we had a laptop, he used it before an election to [play] politics and say that it was false and said it was the Russians when he knew different, when he knew the intel … He used his position as chairman, knowing he has information the rest of America does not, and lied to the American public."
The House speaker also noted Schiff does not "have a right" to be on the intelligence committee. McCarthy added he would allow the California Democrat to serve on other committees.
Advertisement - story continues below
In case you missed it:
Holy shit. Kevin McCarthy just absolutely destroyed a reporter who questioned his decision to remove Schiff and Swalwell from the intel committee.

Total annihilation.
pic.twitter.com/bIAhpkiG8Q

— Greg Price (@greg_price11) January 25, 2023
Schiff later posted a video on TikTok calling the move "troubling."
The congressman claimed he was blocked from serving on the intelligence committee for "doing my job, for holding Trump accountable, and standing up to the extreme MAGA Republicans."
Advertisement - story continues below
He added, "We knew it would be bad when the Republicans took over. But it's far worse than we expected. But I can promise you this, this is not the end of my fight for our democracy, this is just the beginning."
Truth and Accuracy
We are committed to truth and accuracy in all of our journalism. Read our editorial standards.
Comment Down Below
Conversation