News
GOP Lawmaker Wears Mask With Anti-Biden Phrase on House Floor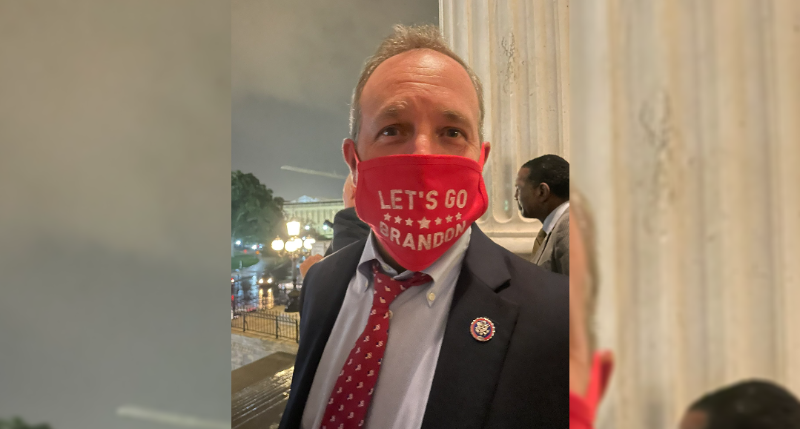 While some Republican lawmakers balk at the House's mask mandate, one is using the requirement to send a message.
On Monday, Rep. Jeff Duncan (R-S.C.) wore a mask on the House floor that read, "Let's go Brandon."
South Carolina @RepJeffDuncan just walked off the floor with a "Let's Go Brandon" mask on.

— Jake Sherman (@JakeSherman) October 25, 2021
Advertisement - story continues below
Spotted at House votes: GOP Rep. Jeff Duncan of SC wearing a mask with a phrase that Republicans are using in place of F*** Joe Biden. pic.twitter.com/0rTSz6LwNV

— Olivia Beavers (@Olivia_Beavers) October 26, 2021
The phrase "let's go, Brandon," has been used as a euphemism for "f*ck Joe Biden," which has been used by spectators of sporting events.
The alternative phrase began to gain momentum after an NBC reporter interviewed NASCAR race winner Brandon Brown. The crowd could be heard chanting, "F*ck Joe Biden."
However, the reporter said, "As you can hear the chants from the crowd, 'Let's go, Brandon!"
Advertisement - story continues below
Duncan is not the only House Republican to use the phrase to register displeasure with President Joe Biden.
As Rep. Bill Posey (R-Fla.) wrapped up a floor speech on Thursday night, he said Americans were "understandably frustrated" with Biden's proposed $3.5 trillion spending package.
"Actually, they're very angry. And they're not going to sit back and take it much longer," he added.
Finally, Posey said, "Let's go, Brandon!"
As Politico noted after Posey's speech, "The House floor is typically policed quite closely for breaches in rhetoric. Talking about the president in any vulgar way would, of course, attract attention — but this phrase seemed to fly under the radar."
Advertisement - story continues below
"There's a song climbing the charts. There's merch. But to see it land on the House floor so quickly is a sign of how fast ideas travel in 2021, and the increasing use of memes in politics," the outlet added.
Rapper Bryson Gray wrote a new song titled "Let's Go Brandon," to criticize Biden. According to Fox Business, the song was "sitting in the No. 1 spot of the music service's chart on Monday, ranking ahead of pop music superstar Adele's latest single."
The use of the phrase has gained popularity as Biden's approval rating has declined. FiveThirtyEight's average of polls finds that 50.8% of Americans do not approve of his job performance while 43.5% approve.
Truth and Accuracy
We are committed to truth and accuracy in all of our journalism. Read our editorial standards.
Conversation