News
GOP Leader Breaks With Trump on Calling Putin's Invasion of Ukraine 'Genuis'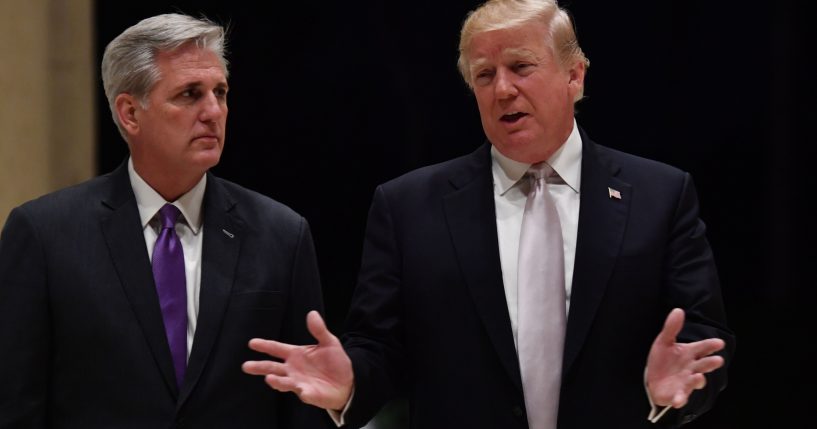 House Minority Leader Kevin McCarthy (R-Calif.) is disagreeing with former President Donald Trump's comments about Russia's invasion of Ukraine.
During a press conference on Wednesday, McCarthy was asked about Trump's comments.
He responded, "I do not think anything savvy or genius about Putin. I think Putin is evil. I think he's a dictator. I think he's murdering people right now."
Advertisement - story continues below
The question refers to comments made by Trump before Russia launched its invasion.
During an interview with conservative radio host Buck Sexton, Trump said, ""I went in yesterday and there was a television screen, and I said, 'This is genius.'"
He continued, "Putin declares a big portion of the Ukraine — of Ukraine. Putin declares it as independent. Oh, that's wonderful. So, Putin is now saying, 'It's independent,' a large section of Ukraine. I said, 'How smart is that?' And he's gonna go in and be a peacekeeper. That's strongest peace force … We could use that on our southern border."
"You gotta say that's pretty savvy," he added.
Advertisement - story continues below
He also made similar comments during an event at Mar-a-Lago, as he said, "[Putin] taking over a country for $2 worth of sanctions. I'd say that's pretty smart."
"He's taking over a country, literally a vast, vast location. A great piece of land with a lot of people and just walking right in. This would have never happened, ever in a million years, it would have never happened."
Sen. Mitt Romney (R-Utah) shredded Republicans who offered praise of Russian President Vladimir Putin during an appearance on CNN as he said, "How anybody, how anybody in this country which loves freedom can side with Vladimir Putin [who] is an oppressor, a dictator, he kills people, he imprisons his political opponents, he has been an adversary of America at every chance he's had, it's unthinkable for me. It's almost treasonous. And it just makes me ill to see some of these people do that."
When asked if former President Donald Trump's claim that Putin's invasion of Ukraine is "smart" would fall into the "almost treasonous" category, Romney did not directly answer.
However, he said, "Standing up for freedom is the right thing to do in America, and anything less than that, in my opinion, is unworthy of American support."
Truth and Accuracy
We are committed to truth and accuracy in all of our journalism. Read our editorial standards.
Comment Down Below
Conversation