Commentary
GOP Rep Knocks Trump 2024 White House Bid: 'We Need to Have Someone That Knows How to Bring Victory'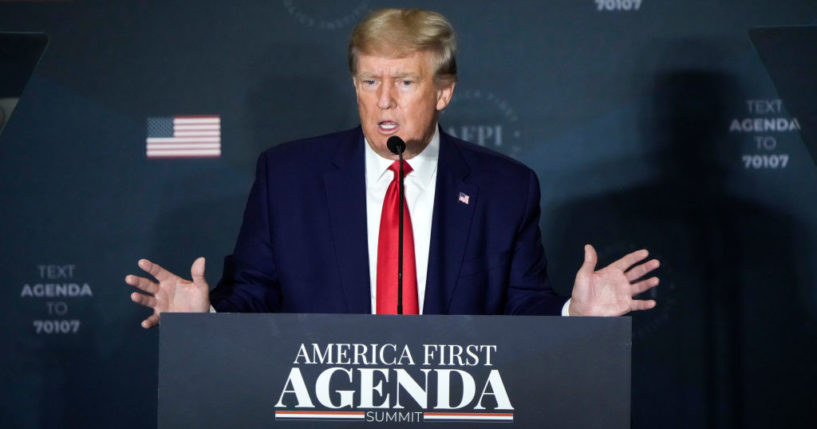 It has been roughly one week since former President Donald Trump announced he is running for the White House again.
And so far it appears he has some work to do to win over Republicans.
Rep. Don Bacon (R-Neb.) appeared on CNN on Tuesday and pointed out suburban voters do not like name-calling and "bombast" in politics. He also suggested the party needs to find a nominee with a personality similar to President Ronald Reagan's.
Advertisement - story continues below
"They want the respectful dialogue. The consensus building. More of a Ronald Reagan personality of trying to attract more people to our party, not divide it," Bacon said.
He went on, "We need to find a nominee that is conservative, but also wants to grow the tent for the Republican Party. And you do it by being inviting and being decent, having self-control."
He suggested such candidates might include former United Nations Ambassador Nikki Haley, Sen. Tim Scott (R-Fla.), or Florida Gov. Ron DeSantis (R).
Watch the video below:
Advertisement - story continues below
Rep. Don Bacon (R-NE) says "suburban America" is looking for a GOP presidential candidate with a "Ronald Reagan personality":

"We need to find a nominee that is conservative but also wants to grow the tent for the Republican Party." pic.twitter.com/0q3xChZz7Q

— The Recount (@therecount) November 22, 2022
When asked if he would support Trump if he won the nomination, Bacon said, "I'm not inclined to say that yet."
Are you tired of the "bombast"?
"I think we should go through the primaries and see how people conduct themselves," he added. "I think it would be not good for the country. It's too divisive."
Bacon also predicted Republicans could lose between 50 and 60 House seats in the 2026 midterms if Trump won in 2024.
"We need to have someone that knows how to bring victory," he insisted
Advertisement - story continues below
Republican Rep. Don Bacon says on CNN that he's sick of "name calling" but in the next breath indicates he's open to supporting Trump again pic.twitter.com/K852c91qaO

— Aaron Rupar (@atrupar) November 22, 2022
If you were to give even the most pro-Trump conservative truth serum, they would probably admit that they do get tired of the former president's behavior and personality.
In 2016 and 2020, Republicans either loved Trump because they thought he was different and understood them. Or they held their nose and voted for him because they thought the alternative was so much worse. And he packaged his business experience as a great success story he could carry over into the White House.
And in 2020, voters were maybe disappointed by the 2018 midterm elections and some of his policies and behavior. But the economy did not crash and burn — before the COVID-19 shutdowns — and World War III did not break out. So they were willing to put up with Trump's personality.
Advertisement - story continues below
But it seems there are now a lot more politicians and potential candidates who are advocating for similar policies as Trump, or similar causes, yet they do not have the same rough edges as him. And polls have found Republicans do not appear too excited about him running again.
Now it seems voters are a little daunted by the prospect of dealing with his personality for another two years and possibly losing yet another election. And Trump has little he can give to voters to show he can win in 2024.
Truth and Accuracy
We are committed to truth and accuracy in all of our journalism. Read our editorial standards.
Comment Down Below
Conversation