News
GOP Rep Reveals Who His Guest Is for the SOTU: He Has 'Seen Firsthand the Disastrous Results' of the Biden Admin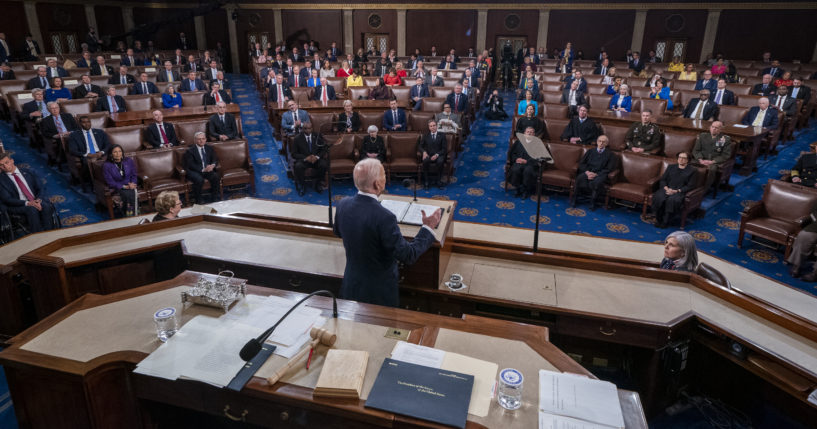 House Majority Leader Steve Scalise (R-La.) shared who he has chosen to be his guest for President Joe Biden's State of the Union address.
In a statement, Scalise shared his guest will be Jefferson Parish Coroner Dr. Gerald "Gerry" Cvitanovich.
Opening his statement, Scalise said, "I am honored to welcome Dr. Cvitanovich as my guest at tonight's State of the Union address."
Advertisement - story continues below
He continued, "As the elected coroner for Jefferson Parish, a community of 433,000 people where I live, Dr. Cvitanovich has seen firsthand the disastrous results of the Biden Administration's open-border immigration policy."
Scalise noted fentanyl is the "leading cause of unnatural deaths in Jefferson Parish, taking roughly 500 lives in 2021 and 2022."
He added, "Eleven years ago, there were only two fentanyl deaths in Jefferson Parish. Every day in America, more than 150 people are dying from synthetic opioid poisoning due to President Biden's open southern border."
Concluding the message, Scalise said, "Until President Biden takes action, every state is now a border state because he gave control of our southern border to drug cartels and human trafficking organizations."
Advertisement - story continues below
Other notable guests attending Biden's address include musician Bono; the individual who disarmed a gunman in a shooting at Monterey Park, California, last month; and the family of Tyre Nichols.
The White House shared the guests are invited to the address "because they personify issues or themes to be addressed by the President in his speech, or they embody the Biden-Harris Administration's policies at work for the American people."
During his speech, Biden is likely to "stress his commitment to cooperating across party lines and tout his success at completing multiple bipartisan bills over the past two years," CNN noted.
Paul Begala, a political adviser to Clinton and political commentator for the network, explained, "I think it's a pretty clear that [Biden] is going to pledge to cooperate where he can and then to confront where he must."
However, it appears not everyone is planning on attending.
Advertisement - story continues below
Rep. Mary Miller (R-Ill.) announced she would be skipping the event.
"Joe Biden's presidency has been filled with lie after lie, especially lies about the border being secure, inflation being temporary, and the DOJ targeting parents for attending school board meetings," she said in a statement.
She added, "I will not be attending Biden's State of the Union to listen to him lie about the damage he has caused to our country while the left-wing media and members of Congress applaud his lies."
The president will deliver his address Tuesday at 9 p.m. EST.
Truth and Accuracy
We are committed to truth and accuracy in all of our journalism. Read our editorial standards.
Comment Down Below
Conversation