Commentary
GOP Senator Calls for an Investigation Into NYT, CNN, AP After Report on Photographers in Gaza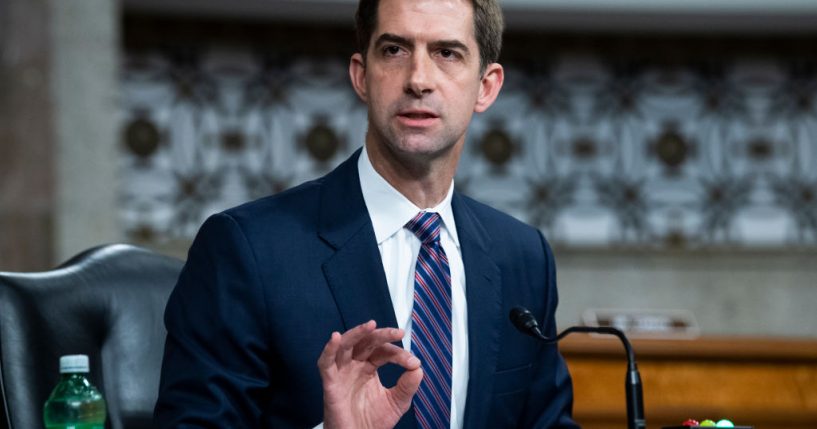 A United States senator is calling for the Department of Justice to look into several major news outlets.
On Friday, Sen. Tom Cotton (R-Ark.) published a letter to Attorney General Merrick Garland calling for an investigation into The New York Times, the Associated Press, CNN, and Reuters.
"I write regarding reports that so-called 'journalists'… accompanied Hamas terrorists into Israel during the October 7 terror attack. These individuals almost certainly knew about the attack in advance, and even participated by accompanying Hamas terrorists during the attack and filming the heinous acts," Cotton wrote.
Advertisement - story continues below
He pointed out that one photographer in Gaza, who has been employed by major news organizations, was seen receiving a kiss from a Hamas leader.
Finally, Cotton insisted, "The Department of Justice must immediately open a national security investigation into these four media outlets to determine whether they or their leadership committed federal crimes by supporting Hamas terrorists."
Read the full statement below:
The DOJ needs to immediately open an investigation into whether @AP, @CNN, @nytimes, and @Reuters committed federal crimes by having journalists embedded with Hamas. pic.twitter.com/4PxHHg6TML

— Tom Cotton (@SenTomCotton) November 10, 2023
Advertisement - story continues below
His letter refers to a report from media watchdog group, Honest Reporting, that raised questions about whether photographers hired by the aforementioned outlets had advance knowledge of the attack.
The article raised some questions about the ethics of using photographs taken in the midst of a massacre. However, it did not provide any concrete evidence that the photographers or news outlets had advanced knowledge of the Oct. 7 attack. Nor did it claim the news outlets had prior knowledge of the attack.
After the report, the AP and CNN cut ties with one of the photographers mentioned in the report and denied they had advanced knowledge of the massacre that left at least 1,400 people dead.
It is one thing to question those outlets' news judgment and ethics. It is quite another to take such a report and demand a federal investigation into institutions protected by the First Amendment for an issue that occurred in another country.
Such an idea would have most of the Founders rolling in their graves.
Advertisement - story continues below
First Amendment-protected institutions do not get some freedom to wantonly violate the laws of the United States. But there needs to be a very bright red line in how the government responds to their behavior. It cannot just get nosey and decide news outlets deserve a little look-see from Uncle Sam based on a kind of "just raising questions" report.
That is a dangerous violation of the protections of freedom of the press. If senators or others can simply raise ethical questions about news outlets that prompt investigations from the DOJ, it could have a severe chilling effect on journalists and how they do their work.
Conservatives should be very careful about what they ask for, especially with a Democratic president in power. That precedent could very easily backfire on them quickly.
And yes, these outlets have some questions to answer about why they chose to publish photos that were taken in the midst of the attack — not the aftermath — while Hamas clearly wanted such images spread far and wide.
Advertisement - story continues below
But the answer is certainly not to threaten them with a federal investigation in the absence of anything resembling evidence they or their leadership broke the law and provided material support to a terrorist organization.
You may be disgusted by Honest Reporting's article. However, in times of high tension and war, it is more important than ever to ensure emotions and tempers do not let government officials run roughshod over rights enshrined in the Constitution.
Truth and Accuracy
We are committed to truth and accuracy in all of our journalism. Read our editorial standards.
Comment Down Below
Conversation