GOP Senator Pushes Trump to Resign: 'It's the Best Path Forward'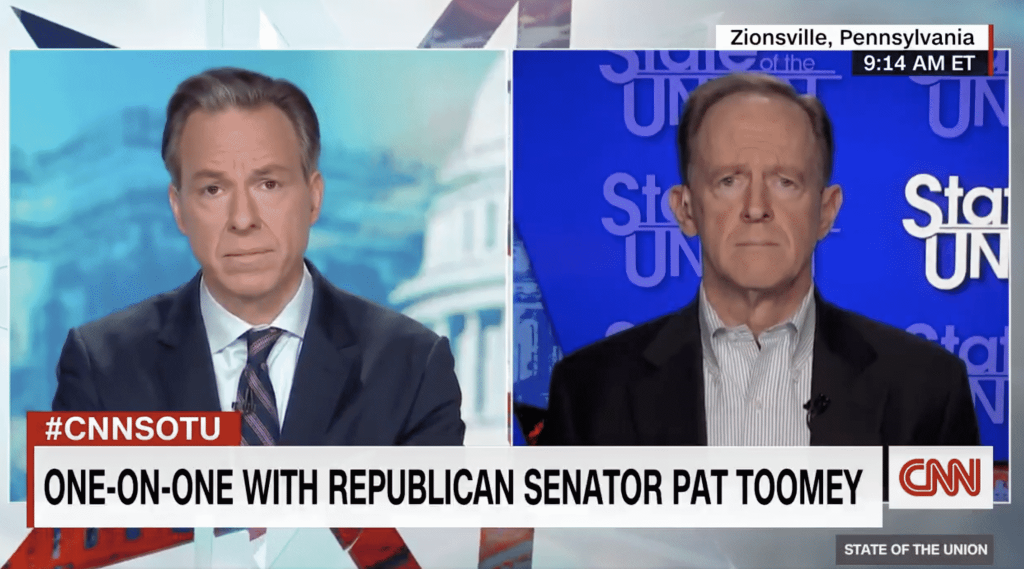 Sen. Pat Toomey (R-Pa.) is urging President Donald Trump to resign with just days left to his presidency.
CNN's Jake Tapper noted on Sunday, Toomey's colleague Sen. Lisa Murkowski (R-Alaska) suggested the president should resign. He asked Toomey if agreed with her.
"I do. I think at this point, with just a few days left, it's the best path forward, the best way to get this person in the rearview mirror for us. That could happen immediately. I'm not optimistic it will, but I do think that would be the best way forward," Toomey said.
Watch the video below:
Republican Sen. Pat Toomey says he thinks President Trump should resign: "I think at this point, with just a few days left, it's the best path forward." #CNNSOTU https://t.co/FZolz3LjxS pic.twitter.com/90sYGHcLQY

— State of the Union (@CNNSotu) January 10, 2021
Murkowski told the Anchorage Daily News on Friday Trump has "caused enough damage," as IJR previously reported.
She added, "He doesn't want to stay there. He only wants to stay there for the title. He only wants to stay there for his ego. He needs to get out. He needs to do the good thing, but I don't think he's capable of doing a good thing."
Several Trump officials have submitted their resignations following Wednesday's violence at the U.S. Capitol, as IJR previously reported.
Former White House Chief of Staff Mick Mulvaney told CNBC on Thursday he "can't stay" after the riots at the Capitol.
Stephanie Grisham, chief of staff for First Lady Melania Trump, deputy press secretary Sarah Matthews, and Trump's social secretary Anna Cristina "Rickie" Niceta also resigned.
Trump said on Friday he would not be attending President-elect Joe Biden's inauguration.
While speaking to reporters in Wilmington, Delaware, on Friday, Biden responded to Trump's decision to miss his inauguration.
"I was told that, on the way up here, the way over here, that he indicated he wasn't going to show up at the inauguration, one of the few things he and I have ever agreed on. It's a good thing, him not showing up," Biden said.
He went on, "He has exceeded even my worst notions about him. He has been an embarrassment to the country, embarrassed us around the world. Not worthy, not worthy to hold that office."
Vice President Mike Pence is reportedly planning to attend.