News
GOP Senator Says the Military Has 'Become the Woke Military'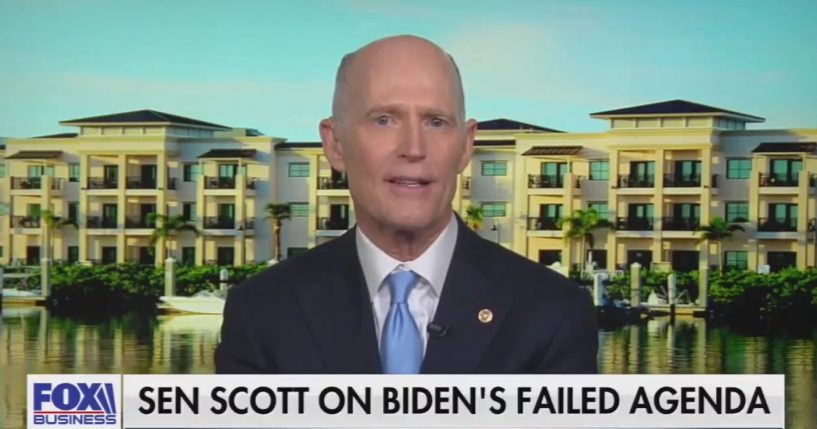 Sen. Rick Scott (R-Fla.) took a swipe at the U.S. armed forces, suggesting the military has become "woke."
During an interview with Fox Business' Maria Bartiromo over the weekend, Scott explained, "If you are in the military, our military has become the woke military, not the lethal military. We lost all of those people in Afghanistan, and Biden's like 'oh, we did a great job.'"
"Our military has become the woke military, not the lethal military." — Sen. Rick Scott (R-FL) pic.twitter.com/Js6rVW9S6P

— The Recount (@therecount) January 23, 2022
Advertisement - story continues below
Other Republicans have criticized the military over its recruiting efforts to attract more diversity, as CNN reported.
In May 2021, Defense Secretary Lloyd Austin dismissed the criticism, saying the military will never be "soft."
He suggested China and Russia "would like to capitalize on talking points like that," adding, "I will not lose one minute of sleep about what the Chinese leadership is saying or what (Russian President) Vladimir Putin is saying. What I will focus on, and what I am focused on is the defense of this nation, and making sure that we have what's needed to be successful."
Sen. Ted Cruz (R-Texas) previously mocked an advertisement released by the military, as IJR previously reported.
Advertisement - story continues below
"Holy crap. Perhaps a woke, emasculated military is not the best idea….," Cruz tweeted.
After receiving criticism for his remarks, Cruz added, "I'm enjoying lefty blue checkmarks losing their minds over this tweet, dishonestly claiming that I'm 'attacking the military.' Uh, no. We have the greatest military on earth, but Dem politicians & woke media are trying to turn them into pansies. The new Dem videos are terrible."
Chairman of the Joint Chiefs of Staff Gen. Mark Milley pushed back against criticism from Republicans during a House Armed Services hearing in June 2021.
"I personally find it offensive that we are accusing the United States military … of being 'woke' or something else because we're studying some theories that are out there," Milley said.
Truth and Accuracy
We are committed to truth and accuracy in all of our journalism. Read our editorial standards.
Comment Down Below
Conversation