News
5 GOP Senators Raise Concerns About 'Potential Unequal Justice,' Citing Capitol Riot and 2020 Protests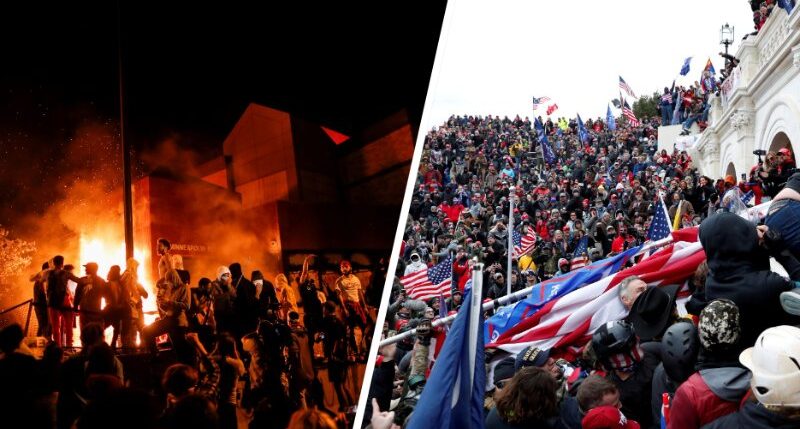 Several Republican lawmakers are pointing to the social justice protests that occurred in 2020 and the U.S. Capitol riot on January 6 in a letter directed to U.S. Attorney General Merrick Garland.
In the letter to Garland on Monday, the lawmakers cite the "enormous resources and manpower" the U.S. Department of Justice (DOJ) is using to investigate and prosecute those who stormed the U.S. Capitol on January 6.
After noting they support holding "those responsible fully accountable," the five Republicans write, "Today, we write to request the information about our concerns regarding potential unequal justice administered in response to other recent instances of mass unrest, destruction, and loss of life throughout the United States."
Advertisement - story continues below
The letter is signed by Sens. Ron Johnson (R-Wis.), Tommy Tuberville (R-Ala.), Mike Lee (R-Utah), Rick Scott (R-Flo.), and Ted Cruz (R-Texas).
Touching on the protests that occurred across the country in the spring and summer of 2020, the senators said individuals used those "peaceful protests" to "engage in rioting and other crimes that resulted in loss of life, injuries to law enforcement, and significant property damage."
Read the full letter below:
More: Despite "numerous examples of violence" during social justice protests "individuals charged with committing crimes at these events may benefit from infrequent prosecutions and minimal, if any, penalties." Says criminal cases related to the siege on US Capitol treated diff. pic.twitter.com/0jOQx8rXDN

— Eric Flack (@EricFlackTV) June 8, 2021
Advertisement - story continues below
They added, "Property destruction stemming from the 2020 social justice protests throughout the country will reportedly result in at least $1 billion to $2 billion in paid insurance claims."
The Republicans also cited reported information from the DOJ in June 2020 stating one federal officer was killed in the protests, 147 federal officers were injured, and "600 local officers [were] injured around the country during protests, frequently from projectiles."
The letter also read:
"DOJ's apparent unwillingness to punish these individuals who allegedly committed crimes during the spring and summer 2020 protests stands in stark contrast to the harsher treatment of the individuals charged in connection with [the U.S. Capitol breach on January 6]."
Protests and unrest broke out in cities across the country in 2020, following the death of George Floyd on May 25, 2020, in police custody in Minneapolis, Minnesota. Amid the Floyd protests, stores were looted and vandalized. In April 2021, former Minneapolis police officer Derek Chauvin was convicted by a jury of second-degree unintentional murder, third-degree "depraved mind" murder, and second-degree manslaughter charges.
Truth and Accuracy
We are committed to truth and accuracy in all of our journalism. Read our editorial standards.
Comment Down Below
Conversation