News
Graham Declares He Will 'Never Forgive' Biden for Afghanistan Withdrawal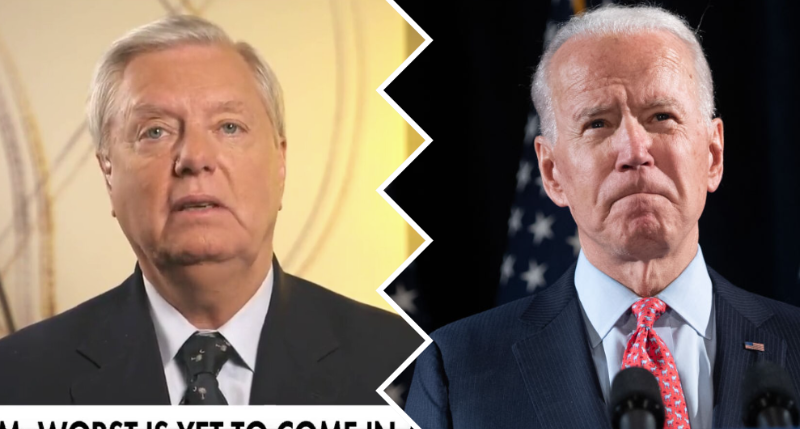 Sen. Lindsey Graham (R-N.C.) says President Joe Biden is a "decent man," but he acted in a "dishonorable way" in his handling of the withdrawal from Afghanistan.
"I've known Joe Biden for a long time. I had a good personal relationship with him. He's a decent man. But what he did in Afghanistan I will never forgive him for, he has blood on his hands, and he's made America less safe," Graham said during Wednesday's appearance on Fox News.
He continued, "And he's been the most consistently wrong man on foreign policy in my lifetime. And I can't wait until the next election to stop this socialist train on the domestic side, and have a chance to get a commander in chief that knows how to keep this country safe."
Advertisement - story continues below
"When it comes to Joe Biden, he's made America less safe. He's acted in a very dishonorable way," Graham added.
Watch the video below:
"If we give them one dime of aid it will be the ultimate betrayal of all the people who have been harmed by the Taliban, threatened by al-Qaeda." @LindseyGrahamSC weighs in ahead of the US special envoy for Afghanistan's meeting with the Taliban's foreign minister pic.twitter.com/OG6QmuwlTj

— America's Newsroom (@AmericaNewsroom) November 10, 2021
The South Carolina senator's comments refer to the execution of the withdrawal from Afghanistan.
Advertisement - story continues below
In a 2015 interview, Graham called Biden "as good a man as God ever created" and "the nicest person I think I've ever met in politics."
Graham and Biden had a close relationship, however a rift appears to have emerged.
During the 2020 presidential campaign, Graham called for an investigation into Biden's son, Hunter Biden. After the election, he reportedly tried to repair their friendship. According to The New York Times, "Mr. Graham told Mr. Biden that, in attacking Hunter, he had done only the bare minimum to satisfy Trump supporters back home. (A Graham spokesman disputed that account.)."
But in December, Biden told late-show host Stephen Colbert the South Carolina senator was a "personal disappointment because I was a personal friend of his."
Earlier this year, Graham called for Biden to be impeached over his handling of the withdrawal from Afghanistan.
Truth and Accuracy
We are committed to truth and accuracy in all of our journalism. Read our editorial standards.
Conversation