News
Graham Privately Described Trump's Election Fraud Claims As Suitable for 'Third Grade': Book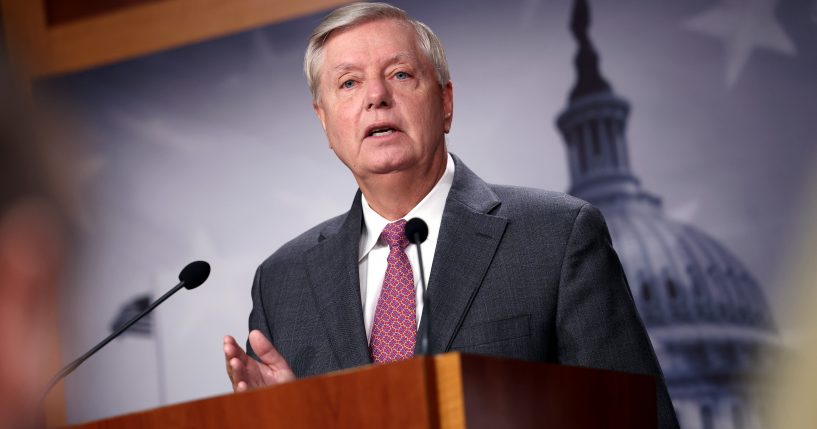 Sen. Lindsey Graham (R-S.C.) called former President Donald Trump's claims of widespread fraud in the 2020 presidential election suitable for "third grade," according to an upcoming book.
The Washington Post reported on the details included in the upcoming book, "Peril," written by Bob Woodward and Robert Costa.
According to the new book, Graham met with Trump's then-personal attorney, Rudy Giuliani, in January to learn about findings they claimed could give the former president a second term.
Advertisement - story continues below
Graham told Giuliani, "Give me some names," adding, "You need to put it in writing. You need to show me the evidence."
The outlet notes the book "describes parallel efforts by the South Carolina Republican and his conservative colleague from Utah, Sen. Mike Lee, to personally investigate the president's claims of voter fraud as the lawmakers prepared to certify Joe Biden's victory on Jan. 6."
Both Graham and Lee reportedly took Trump's election fraud claims seriously enough to notify their senior staff and phone different state officials.
Still, Graham privately suggested Trump's claims were suitable for "third grade." Giuliani later sent Graham memos on January 4. One was titled, "Voting Irregularities, Impossibilities, and Illegalities in the 2020 General Election."
Advertisement - story continues below
The senator sent the documents over to his top lawyer on the Judiciary Committee, Lee Holmes. The authors reported that Holmes was unimpressed with the documents.
They explained, "Holmes found the sloppiness, the overbearing tone of certainty, and the inconsistencies disqualifying," determining the memos "added up to nothing."
Were Trump's claims suitable for "third grade"?
Following the January 6 riot at the U.S. Capitol, Graham said while delivering remarks on the Senate floor, "Count me out. Enough is enough. I've tried to be helpful."
In a tweet on January 6, Graham wrote, "I prayed [Joe Biden] would lose. He won. He's the legitimate president of the United States."
He added, "Joe Biden and Kamala Harris are lawfully elected and will become the president and vice president of the United States on January 20th."
Truth and Accuracy
We are committed to truth and accuracy in all of our journalism. Read our editorial standards.
Comment Down Below
Conversation