News
Marjorie Taylor Greene Fires Off at British Reporter Over Gun Laws: 'Go Back to Your Country'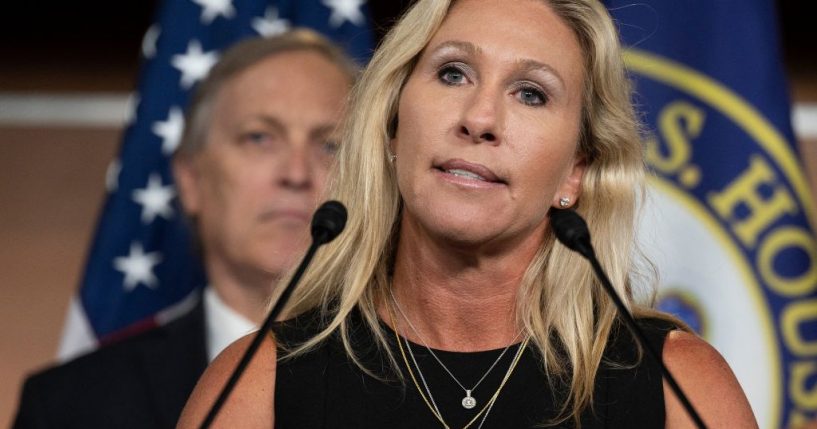 Rep. Marjorie Taylor Greene (R-Ga.) is taking issue with a British reporter.
She had six blunt words for the reporter: "Go back to your own country."
"It's our job to defend the Second Amendment," Greene said during Wednesday's press conference.
Advertisement - story continues below
The unidentified British reporter responded, "We don't have guns in the U.K., that is true, but we don't have mass shootings either. And our children aren't scared to go to school."
"You have mass stabbings, lady," Greene fired back. "You have all kinds of murder and you've got laws against that."
The reporter said that it is "nothing like the same rates here."
"Well, you can go back to your country and worry about your no guns," Greene said. "We like ours here."
Advertisement - story continues below
Greene also called it "our God-given American gun rights" in a tweet on Wednesday evening.
When British press wants to argue about our God-given American gun rights, my answer is: "go back to your own country." pic.twitter.com/QrcA9Apbet

— Rep. Marjorie Taylor Greene🇺🇸 (@RepMTG) June 22, 2022
According to Action on Armed Violence (AOAV), "In London, 74.4% of all homicides were caused by knives or sharp implements in 2021, a 15.6% increase from 2020. Perhaps a testimony to the UK's strong gun control laws, just 8.3% of homicides in 2021 were caused by gunshot wounds – proportionally down from the 11.4% witnessed in 2020."
It added, regarding the U.K.'s capital London, "Undoubtedly, COVID-19 lockdown played a role in the decrease of overall homicides, but the restrictions on public life caused by the pandemic did not stop street violence entirely. Indeed, figures reveal that knife murders as a proportion of all homicides rates have been slowly increasing over the last decade."
The U.S. Senate advanced an 80-page bipartisan gun safety bill in a procedural vote on Tuesday. A vote is expected on Thursday to advance the legislation toward a final passage. It could pass this week.
Advertisement - story continues below
There were 14 Republican senators who joined Democrats in Tuesday's vote, as IJR reported on.
Greene also took a moment to blast those Republican colleagues, tweeting on Wednesday, "I can't express the damage these Republican Senators have done."
The legislation, "Bipartisan Safer Communities Act," includes "expanded background checks for gun buyers under 21, provides grants for states that implement their own red flag laws and offers additional funding for both school safety measures and mental health services," Fox News reports.
This comes after 10 people were killed in a shooting at a Buffalo supermarket and 21 people were killed at a school shooting in Uvalde, Texas, among other shootings in the U.S.
Advertisement - story continues below
Top House Republicans — Minority Leader Kevin McCarthy (Calif.) and Minority Whip Steve Scalise (La.) — have already indicated they do not plan to vote in support of the gun bill.
House Speaker Nancy Pelosi (D-Calif.) said in a statement that if the Senate passes the legislation, "the House will swiftly bring it to the Floor so that we can send it to President Biden's desk."
Truth and Accuracy
We are committed to truth and accuracy in all of our journalism. Read our editorial standards.
Comment Down Below
Conversation