News
Nikki Haley Knocks Pence for Statement About Trump's Election Claims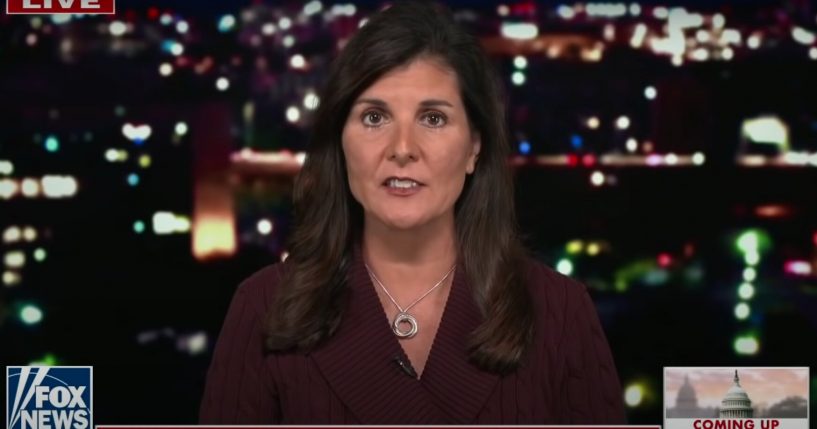 Former Ambassador to the United Nations Nikki Haley says she is not in favor of "Republicans going after Republicans" after former Vice President Mike Pence pushed back on some of his running mate's claims.
During an appearance on Fox News' "Special Report" Monday, host Brett Baier played Haley a clip of Pence refuting former President Donald Trump's claim that he had the power to overturn the 2020 election and asked for her response.
"Look, Mike Pence is a good man. He's an honest man. I think he did what he thought was right on that day," Haley responded.
Advertisement - story continues below
However, she continued, "I will always say, I'm not a fan of Republicans going against Republicans because the only ones that win when that happens are the Democrats and the media. And we have to keep our eyes on 2022."
Finally, she said, "Mike Pence was saying what he thought he needed to say. He's a good man. He's an honest man. I hope that at the end of the day, President Trump and Mike Pence can come together and remember that we've got a lot of Republicans that need our help in 2022."
Watch the video below:
Advertisement - story continues below
During a speech at a Federalist Society event on Friday, Pence said, "There are those in our party who believe that as the presiding officer of the joint session of Congress, that I possessed unilateral authority to reject Electoral College votes. And I heard this week, President Trump said I had the right to overturn the election. President Trump is wrong."
He added, "I had no right to overturn the election. The presidency belongs to the American people, and the American people alone. And frankly, there is no idea more un-American than the notion that any one person could choose the American president."
Earlier this week, former President Donald Trump claimed that the House committee investigating the Jan. 6 riot at the U.S. Capitol should look into why Pence did not overturn the election, as IJR reported.
"The Unselect Committee should be investigating why Nancy Pelosi did such a poor job of overseeing security and why Mike Pence did not send back the votes for recertification or approval, in that it has now been shown that he clearly had the right to do so!" he said in a statement.
Trump's comments about Pence center around a 19th-century law known as the Electoral Count Act, which dictates how Congress is to count the electoral votes after a presidential election and how to handle disputes. It was written after the contested 1876 election when several states sent multiple sets of electors to Congress.
Advertisement - story continues below
As ABC News notes, the law, in "long" and "convoluted language," creates some confusion about the role of the vice president in the process of counting the electoral votes. Some in Trump's orbit apparently interpreted the law to mean that Pence could unilaterally declare that votes from six states would not be counted due to "ongoing disputes."
Truth and Accuracy
We are committed to truth and accuracy in all of our journalism. Read our editorial standards.
Comment Down Below
Conversation