News
Top Harris Aide Leaving Office, Second in a Month to Announce Departure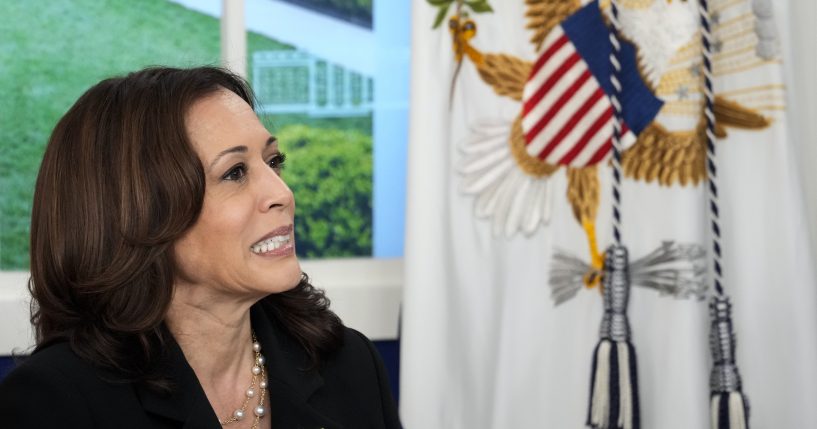 Vice President Kamala Harris is losing another communications aide, the second announced departure in just a month.
On Wednesday, Politico reported that Symone Sanders, a senior adviser and chief spokesperson for Harris, is expected to leave her position at the end of the year.
An official told the outlet that Harris and President Joe Biden have "known for a while" about Sanders' plan.
Advertisement - story continues below
In a note to staff, Sanders wrote, "I'm so grateful to the VP for her vote of confidence from the very beginning and the opportunity to see what can be unburdened by what has been."
"I'm grateful for [Harris chief of staff] Tina [Flournoy] and her leadership and her confidence as well. Every day, I arrived to the White House complex knowing our work made a tangible difference for Americans. I am immensely grateful and will miss working for her and with all of you," she added.
Harris' chief of staff, Tina Flournoy, said in a note to staff, "Symone told the VP a couple months ago that she'd be leaving us at the end of the year. I've often said about her that no job is too big or too small for Symone."
According to Politico, Sanders "helped Harris juggle a tricky portfolio, including not just trying to address the root causes of migration from Northern Triangle countries and the federal push for voting rights, but also carrying the weight of being the nation's first female vice president."
Advertisement - story continues below
News of Sanders' departure comes just weeks after Harris' communications director Ashley Etienne announced her resignation, as IJR reported.
In November, CNN reported that White House aides were "worn out by what they see as entrenched dysfunction and lack of focus" in Harris' office.
Meanwhile, members of Harris' staff reportedly feel that the vice president is being "sidelined" and is "not being adequately prepared or positioned."
White House Press Secretary Jen Psaki tweeted the same day that report was published that Harris is a "vital partner" to Biden and a "bold leader."
And White House Chief of Staff Ron Klain told CNN that Harris is "doing a magnificent job" as vice president.
Truth and Accuracy
We are committed to truth and accuracy in all of our journalism. Read our editorial standards.
Comment Down Below
Conversation