News
Harris Defends Afghanistan Withdrawal: 'Time to End That 20-Year War'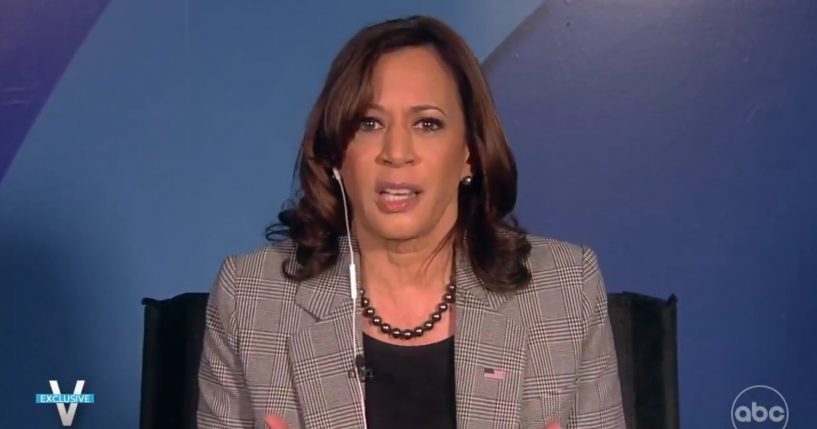 Vice President Kamala Harris is defending the Biden administration's Afghanistan withdrawal, suggesting "it was time to end that 20-year war."
During an appearance on "The View" on Friday, co-host Sara Haines noted President Joe Biden called the withdrawal "an extraordinary success."
Haines continued, "But there was chaos at the airport, a terror attack that killed 13 U.S. soldiers, Americans and allies left behind, and a drone strike that killed innocent civilians."
Advertisement - story continues below
She asked Harris, "How did so much go so wrong so fast and how was this not anticipated?"
Harris responded, "The president has been clear, and I think the American public agree that it was time to end that 20-year war."
She explained "there is also no question that we all mourn and honor the sacrifice and the service of those 13 servicemen and women who enlisted to protect our nation and our principles and paid the ultimate price for that."
The vice president argued, "We are a global leader. We have interests around the world and we have to stay focused on those interests wherever they take place."
Advertisement - story continues below
Watch Harris' interview below:
.@VP @KamalaHarris on Afghanistan pull-out: "The president has been clear, and I think the American public agree[s] that it was time to end that 20-year war."

"We are a global leader… we have to stay focused on those interests wherever they take place." https://t.co/w3c681Prf2 pic.twitter.com/9Xmn2tobj6

— The View (@TheView) September 24, 2021
Was it time to end the war?
The last American service member left Afghanistan on August 30, bringing an end to the nation's longest war. In the 20-year war, more than 800,000 service members served in Afghanistan. Thousands of U.S. service members and civilians lost their lives during the war.
The president doubled down on his handling of the Afghanistan withdrawal during his visit to the Shanksville, Pennsylvania, memorial to United Flight 93, on the 20th anniversary of the 9/11 terror attacks on the United States.
"Can al-Qaida come back? Yeah but guess what? It's already back other places," Biden said.
Advertisement - story continues below
He added, "What's the strategy? Every place where al-Qaida is, we're going to invade and have troops stay there? C'mon."
Biden argued "70 percent of the American people think it was time to get Afghanistan, spending all that money, but the flip of it is, they didn't like the way we got out. But it's hard to explain to anybody, how else could you get out?"
He received significant criticism from lawmakers and former President Donald Trump for his handling of the withdrawal. During an August interview with Lisa Booth, Trump suggested, "Nobody's ever seen embarrassment like this."
Biden's approval rating continues to fall amid the withdrawal from Afghanistan and the ongoing COVID-19 pandemic, as IJR reported.
Advertisement - story continues below
A new Gallup poll released on Tuesday showed that Biden's approval rating has dropped from 49% to 43% in August alone.
Truth and Accuracy
We are committed to truth and accuracy in all of our journalism. Read our editorial standards.
Conversation