News
Harris Claims Overturning Roe v. Wade Would Be an 'Assault' on the 'Right of Self Determination'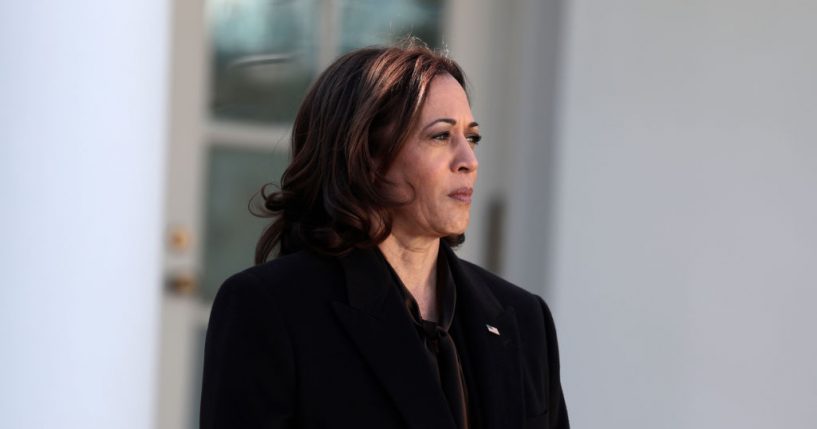 Vice President Kamala Harris claims that if the Supreme Court overturns Roe v. Wade, it would be an "assault" on the ability to "live and love without interference from the government."
During a virtual meeting with abortion providers on Thursday, Harris said, "It would be a direct assault on the fundamental right to self-determination, to live and love without interference from the government."
"At its core, this is about our future as a nation. About whether we live in a country where the government can interfere in personal decisions," she added.
Advertisement - story continues below
Watch the video below:
Kamala on the possible overturning of Roe v. Wade:

"It would be a direct assault on the fundamental right to self-determination. To live and love without interference from the government." pic.twitter.com/H2EsSfAEjd

— The Post Millennial (@TPostMillennial) May 19, 2022
Harris went on, "The right to privacy — that forms the basis to Roe — is the same right to privacy that protects the right to use contraception and the right to marry the person you love, including a person of the same sex."
"Overturning Roe opens the door to restricting those rights," she said.
Advertisement - story continues below
Kamala says that overturning Roe v. Wade will lead to restricting contraception and same-sex marriage. pic.twitter.com/ivk3AL625T

— The Post Millennial (@TPostMillennial) May 19, 2022
In a statement earlier this month, Harris said, "What is clear is that opponents of Roe want to punish women and take away their rights to make decisions about their own bodies. Republican legislators in states across the country are weaponizing the use of the law against women."
"The rights of all Americans are at risk. If the right to privacy is weakened, every person could face a future in which the government can potentially interfere in the personal decisions you make about your life," she continued.
Finally, Harris said, "This is the time to fight for women and for our country with everything we have."
Harris' comments come after Politico published a report based on a leaked draft opinion that appeared to show the Supreme Court is poised to overturn Roe v. Wade.
Advertisement - story continues below
After the leak, prominent Democrats claimed that overturning Roe could lead to decisions on same-sex marriage being overturned.
However, Justice Samuel Alito, who penned the opinion, stressed in the draft that that would not necessarily be the case.
He argued that abortion destroys a "potential life," which "sharply distinguishes" it from other decisions.
"None of the other decisions cited by Roe and Casey, involved the critical moral question posed by abortion," Alito wrote in the draft.
Advertisement - story continues below
The justice added, "They do not support the right to an abortion, and by the same token, our conclusion that the Constitution does not confer such a right does not undermine them in any way."
Truth and Accuracy
We are committed to truth and accuracy in all of our journalism. Read our editorial standards.
Comment Down Below
Conversation