News
Harris Again Refuses to Say if 2024 Dem Ticket Will Be the Same, Knocks 'Gossip' in DC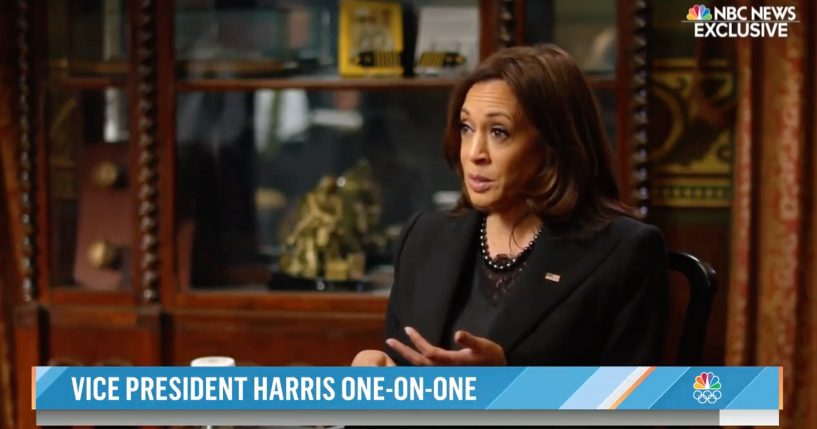 Vice President Kamala Harris is not addressing whether the Democratic ticket in the 2024 election will see any changes.
NBC's Craig Melvin asked Harris during an interview that aired on Thursday, "Are we going to see the same Democratic ticket in 2024?"
"I'm sorry, we are thinking about today," the vice president responded. "I mean, honestly, I know why you're asking the question because this is part of the punditry and the gossip around places like Washington, D.C."
Advertisement - story continues below
She continued, "Let me just tell you something, we're focused on the things in front of us. We're focused on what we need to do to address issues like affordable childcare…"
Melvin interjected, "So there'll be no conversations about 2024?"
"The American people sent us here to do a job, and right now, there's a lot of work to be done. And that's my focus sincerely," Harris responded.
Melvin then noted that she appears to be "at least familiar with some of the punditry." He also pointed out an article that put forward the idea of President Joe Biden swapping Harris with Rep. Liz Cheney (R-Wyo.) for the 2024 ticket.
Advertisement - story continues below
"Did you read that article?" he asked.
Harris responded, "No, I did not. And I really could care less about the high-class gossip on these issues."
Do you think the 2024 ticket will be the same?
Watch the video below:
"I don't believe in giving up on people."

Watch @craigmelvin's full interview with @VP Kamala Harris on the state of COVID-19 in the United States, opposition to voting rights legislation in the Senate, the 2024 election and more. pic.twitter.com/5hUlCfQEoC

— TODAY (@TODAYshow) January 13, 2022
This is not the first time Harris declined to talk about the 2024 presidential election.
Advertisement - story continues below
During an interview with The Wall Street Journal in December, she said, "I will tell you this without any ambiguity: We do not talk about nor have we talked about reelection because we haven't completed our first year and we're in the middle of a pandemic."
When asked about Harris' refusal to give an answer, Deputy White House Press Secretary Karine Jean-Pierre told reporters that Biden does intend to run with Harris on the ticket in 2024.
Truth and Accuracy
We are committed to truth and accuracy in all of our journalism. Read our editorial standards.
Comment Down Below
Conversation