Commentary
Harris Says Americans 'Got What They Asked For' in 2020 Election – The Polls Say Otherwise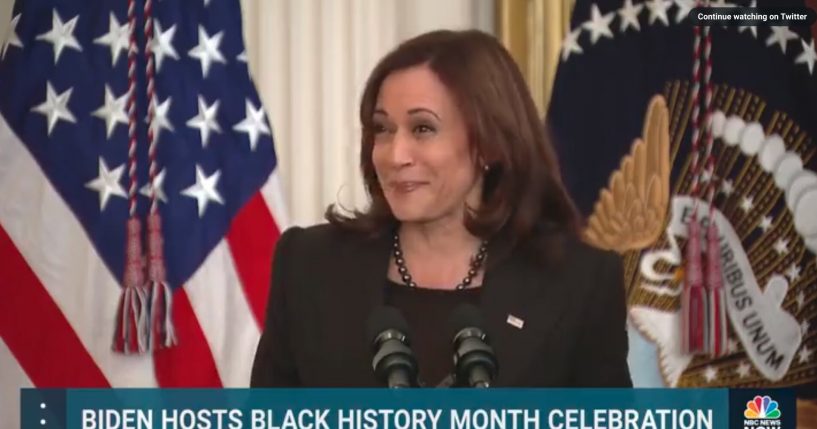 Vice President Kamala Harris says Americans are getting what they wanted when they voted to oust former President Donald Trump in the 2020 election.
During an event at the White House on Monday, Harris said, "As we all know, elections matter. And when folks vote, they order what they want, and in this case, they got what they asked for."
"I went off script a little bit," she added before laughing.
Advertisement - story continues below
Watch the video below:
HARRIS: "When folks vote, they order what they want, and in this case they got what they asked for…I went off script a little bit." pic.twitter.com/T88cLIumtj

— Townhall.com (@townhallcom) February 28, 2022
Voters certainly did get what they asked for in that the White House changed hands. But are the policies really what they asked for? And is President Joe Biden really performing as they expected?
The polls would seem to suggest otherwise.
Advertisement - story continues below
According to a new ABC News/Washington Post poll, just 37% of Americans approve of his job performance — a career-low for him — while 55% do not approve. Additionally, RealClearPolitics' average of Biden's approval rating shows that 40.8% of Americans approve while 54.6% do not.
Aside from Trump, Biden's approval rating is lower than any other recent president at the same point in their president.
The abysmal polling for Biden comes as inflation is hitting 40-year highs and gas prices are surging gas. When asked what the plan was to bring gas prices down late last year, Biden's energy secretary laughed. And White House Press Secretary Jen Psaki said that higher gas prices make "an even stronger case for doubling down our investment and our focus on clean energy option."
Additionally, last year the number of border crossings surged to a 21-year high, and Americans witnessed the chaotic withdrawal from Afghanistan as the Taliban overran the country following two decades of war.
Biden also tried to implement a coronavirus vaccine mandate despite just months earlier saying that he would not take such a step.
Advertisement - story continues below
He has also been prone to lash out, shift blame, and bungle important messages.
Just to name a few things.
And despite campaigning on a pledge to unify the country, polls show that a majority of Americans say Biden is doing more to divide than to unite it.
While voters got what they wanted in that Trump is no longer president, it seems that Americans are not really getting what they asked for when they voted for Biden.
Truth and Accuracy
We are committed to truth and accuracy in all of our journalism. Read our editorial standards.
Comment Down Below
Conversation