Kamala Harris Slaps Down Idea That the Rest of the Trump-Biden Debates Should Be Canceled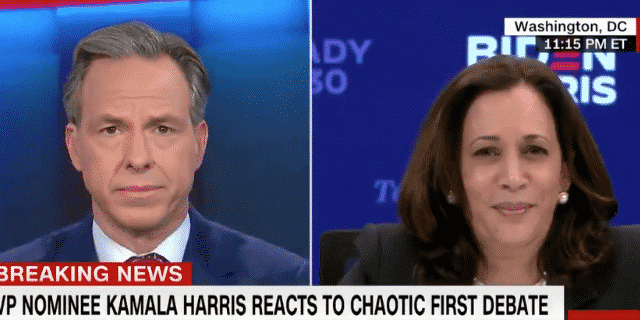 After the first presidential debate kicked off with chaos, some have mulled the idea of the other two debates being canceled.
Asked by CNN's Jake Tapper "after what went down this evening, do you think Joe Biden should participate in a second or third debate," Kamala Harris, who is Democratic presidential nominee Joe Biden's running mate, slapped the idea of canceling down.
"Joe Biden's never going to refuse to talk to the American people," she responded.
Harris continued, "And have any opportunity that he can to speak directly to American families and speak about the issues, speak the truth, and address the facts of where we are now, but also address the hopes and dreams of the American families and where we could be and Joe's got a plan for dealing with those hopes and aspirations as well."
When asked if she believes Americans benefitted from what was seen play out on Tuesday night in Ohio, Harris said, "I think the American people benefitted from a very clear contrast."
"On one hand, you have Joe talking directly into the camera trying to bring some semblance of maturity to a conversation," she continued, adding, "On the other hand, you had a Donald Trump who spent the full time interrupting, bullying the moderator, and lying to the American people."
See her comments below:
Kamala Harris on tonight's debate: "I do believe that the American people benefited from a clear contrast of what they've got right now, but also what they can get and what is possible" #Debates2020 https://t.co/ZTQQmFmy0M pic.twitter.com/98ZU07K93a

— CNN (@CNN) September 30, 2020
Biden and President Donald Trump hurled insults at one another during the first debate, repeatedly clashing.
The first debate has been described by some as "ugly," a "sh*t show," and "chaotic."
Mirroring Harris' remarks, Biden deputy campaign manager Kate Bedingfield told reporters after the debate, "I don't know how many different ways we can say it. Yes, we are going to do the debates."
Bedingfield added, "I would imagine there will be some additional conversations [with the Commission on Presidential Debates]. But yeah, we are committing to attending the debates."
The other two presidential debates are scheduled for Oct. 15 and Oct. 22. Additionally, the vice-presidential debate will be held on Oct. 7.