News
Hawley Says the Biden Administration Has 'Embraced This Era of Want'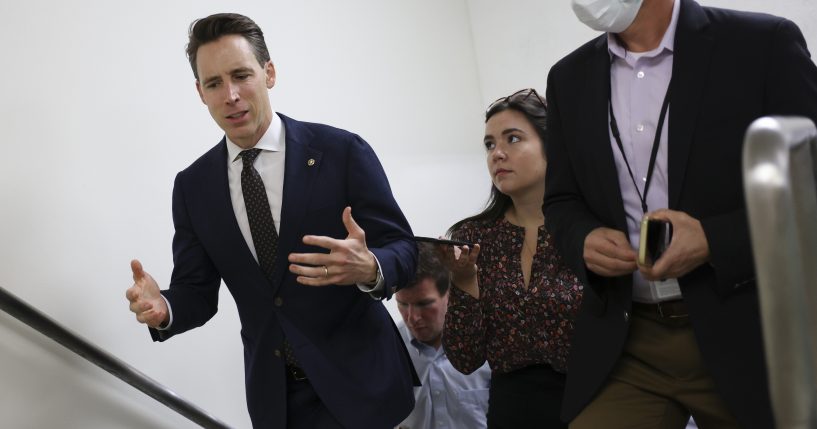 Sen. Josh Hawley (R-Mo.) is accusing the Biden administration of implementing "a series of reckless policies" worsening shortages and inflation.
In an op-ed published by Fox News Tuesday, Hawley took a swipe at the Biden administration for supply chain shortages.
"Long a land of abundance, the United States has become a land of scarcity under President Joe Biden," Hawley wrote.
Advertisement - story continues below
He added, "Store shelves are increasingly empty, the cost of basic goods is soaring, supply chains are failing, foreign imports are backlogged at our ports, and a government-induced energy crunch has driven up prices at the pump to seven-year highs."
Hawley claimed American families are "bearing the brunt of this crisis."
According to Hawley, instead of addressing the causes of scarcity, "The Biden administration has embraced this era of want."
The senator noted White House Press Secretary Jen Psaki said earlier this week the administration "cannot guarantee" Christmas presents will arrive when Americans need them to.
Advertisement - story continues below
"Officials at the Energy Department warned that household heating bills will increase by more than 54 percent compared to last winter. All the while school districts across the country are scrambling to find enough food supplies for student lunches," Hawley explained.
Labeling Biden the "architect of this crisis," Hawley argued his policies "now threaten to push our economy to the breaking point."
Has the administration "embraced the era of want"?
Hawley went on to claim public health mandates implemented by Democrats are to blame for "limited consumer spending at restaurants, bars, and movie theatres and on traveling."
He continued, "This has placed an unprecedented strain on global supply chains and caused our trade deficit with China to surge towards new highs."
Additionally, Hawley criticized Biden for issues with the labor market and energy sector.
Advertisement - story continues below
"Any one of these policies would be disastrous; together, they're a perfect storm. To solve it, President Biden has spent trillions of dollars and now wants taxpayers to foot the bill for trillions more," Hawley said.
Offering a solution, he suggested rebuilding "an economy that prioritizes American workers and supply chain security over corporate profit."
Concluding his op-ed, Hawley argued, "American families shouldn't be facing a skyrocketing cost of living. Christmas should never be a season of scarcity. Schools should never struggle to feed their students. But these days, that is Joe Biden's America."
ABC News reported, citing Moody's Analytics, the issues "will likely get worse before they get better."
Advertisement - story continues below
The report added, "As the global economic recovery continues to gather steam, what is increasingly apparent is how it will be stymied by supply-chain disruptions that are now showing up at every corner."
The White House said last week there are plans to increase capacity at major ports in California and with carriers, including Walmart, FedEx and UPS, as NPR reports.
Truth and Accuracy
We are committed to truth and accuracy in all of our journalism. Read our editorial standards.
Comment Down Below
Conversation