News
Hawley Calls for FBI, DHS to Investigate Nashville Shooting as a Hate Crime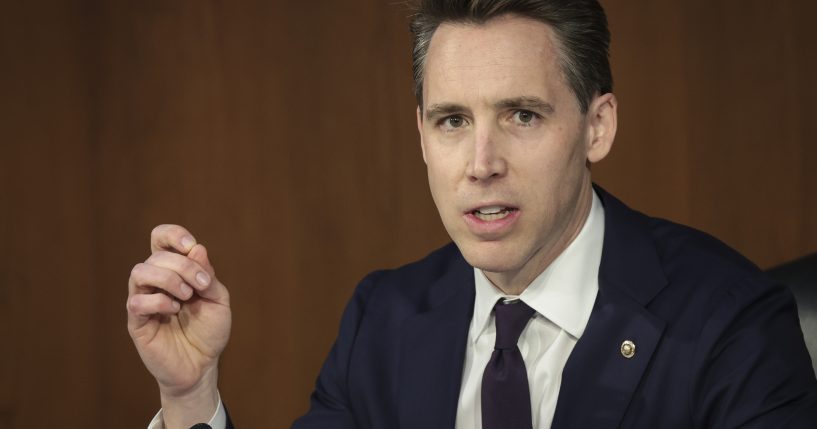 Sen. Josh Hawley (R-Mo.) is urging federal law enforcement officials to open a hate crime investigation into the shooting at a Christian school in Nashville, Tennessee.
In a letter to FBI Director Christopher Wray and Department of Homeland Security Secretary Alejandro Mayorkas, Hawley wrote, "Yesterday the nation witnessed the vicious murder of small schoolchildren in Nashville, Tennessee."
After noting the shooting took place at a Christian school, the senator argued it is "false" to label the incident an act of "senseless violence."
Advertisement - story continues below
He pointed out law enforcement called the shooting "targeted."
"Targeted, that is, against Christians," Hawley added.
His letter went on:
"Federal law explicitly criminalizes acts of violence against individuals based on religious affiliation as hate crimes. To be exact, the hate crime statute… bars 'willfully caus[ing] bodily injury to any person… because of the actual or perceived, race, color, religion, or national origin of any person.'"
Advertisement - story continues below
Check out the letter below:
I am calling on FBI Director Wray and Homeland Security Secretary Mayorkas to open a federal hate crime investigation into the massacre in Nashville – targeting a Christian school 👇 pic.twitter.com/IvzrJUY2ZH

— Josh Hawley (@HawleyMO) March 28, 2023
Do you think it should be investigated as a hate crime?
Hawley noted Nashville police chief John Drake said law enforcement found a "manifesto" and "some writings" that "pertain to this date, the actual incident."
Law enforcement also discovered a "map drawn out of how this was all going to take place."
Finally, Hawley wrote, "I urge you to immediately open an investigation into this shooting as a federal hate crime. The full resources of the federal government must be brought to bear to determine how this crime occurred, and who may have influenced the deranged shooter to carry out these horrific acts."
Advertisement - story continues below
"Hate that leads to violence must be condemned. And hate crimes must be prosecuted," he added.
Monday's shooting at the Covenant School left three children and three adults dead.
The shooter was killed by law enforcement. 
Drake told reporters on Monday the shooter identified as transgender. 
Advertisement - story continues below
He added police have a "theory" about a motive but did not share it at the time.
Truth and Accuracy
We are committed to truth and accuracy in all of our journalism. Read our editorial standards.
Comment Down Below
Conversation