News
Hawley Threatens To Slow Walk State, Defense Department Nominees Until Key Officials Resign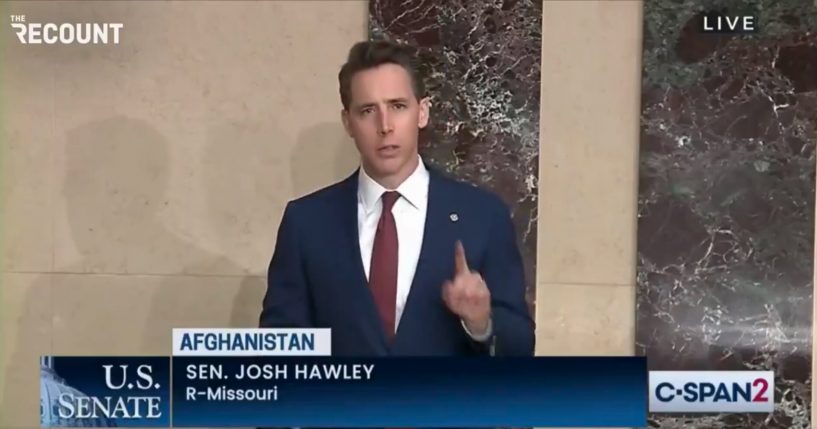 Sen. Josh Hawley (R-Mo.) says he will drag out the nomination process for the State and Defense Department positions until several key administration officials resign over the chaotic withdrawal from Afghanistan.
In a speech on the Senate floor on Tuesday, Hawley said, "We hold responsible those who bear the blame for the failure of the last month and all the months that proceeded it."
"For 20 years, our soldiers who fought in Afghanistan did what we sent them there to do. They went after Al Qaeda, killed Osama bin Laden and prevented terrorists from using Afghanistan as a base for attacking our homeland. They did their duty, and they did it honorably. But now it's abundantly clear President Biden's not done his. President Biden turned an orderly evacuation into a disaster. That much is painfully clear," he continued.
Advertisement - story continues below
The Missouri senator went on to blast Secretary of State Antony Blinken, Defense Secretary Lloyd Austin, and National Security Adviser Jake Sullivan as he claimed they are responsible too.
"They overestimated the Afghan security forces' willingness to hold the line, and instead of planning for the worst, they planned for the best. Because of them, we have Americans stranded behind enemy lines and over 100,000 Afghan refugees arriving now to this country at this 11th hour without vetting or precautions. This was never necessary," he said.
Finally, Hawley declared, "So let me be clear: I will not consent to the nomination of any nominee for the Department of Defense or for the Department of State until Secretary Austin and Secretary Blinken and Jake Sullivan resign."
"Leaders take responsibility for their failures. And the failure of these individuals. The failure of this administration has cost Americans their lives and has left American civilians to the enemy. There must be accountability. And then there must be a new start," he added.
Advertisement - story continues below
Watch the video below:
Sen. Josh Hawley (R-MO), who famously raised a fist in solidarity to the 1/6 insurrectionists, says he won't consent to any Department of Defense or State nominations until Sec. of State Antony Blinken, Defense Sec. Gen. Lloyd Austin and NSA Jake Sullivan resign. pic.twitter.com/ckMSU1Phc5

— The Recount (@therecount) September 14, 2021
As The Hill notes, "Hawley can't prevent the nominees from being confirmed if they have a simple majority of senators supporting them. But he can force Senate Majority Leader Charles Schumer (D-N.Y.) to eat up precious floor time."
The Biden administration has been criticized for the execution of the withdrawal from Afghanistan.
But in testimony before the House Foreign Affairs Committee on Monday, Blinken argued that no matter how long U.S. forces stayed in Afghanistan, the security forces and government would have collapsed.
Advertisement - story continues below
He also blamed the Trump administration for negotiating a peace agreement with the Taliban, claiming they received a deadline for the withdrawal, but "we did not inherit a plan."
Truth and Accuracy
We are committed to truth and accuracy in all of our journalism. Read our editorial standards.
Comment Down Below
Conversation