News
'Hazardous': Smoke From Canada Wildfires Affecting Major US Cities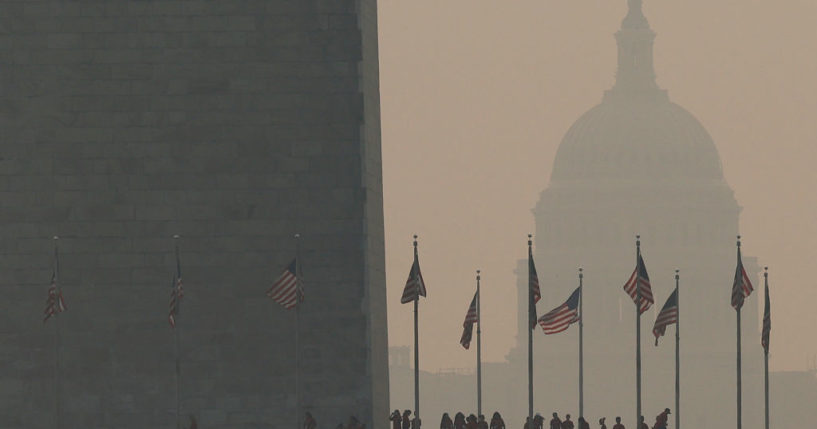 The impact of the Canadian wildfires has made its way into major cities across northeastern America.
Fox Weather reported the wildfires have heavily covered the skies in New York, Washington D.C., and Philadelphia.
As a result of the 400-plus wildfires currently burning in Canada and multiple provinces within the country, New York has been impacted the most by the ones in the city of Quebec. New York is facing the worst air quality its had in 38 years, the FOX Forecast Center confirmed.
Advertisement - story continues below
On Wednesday morning, the city of Syracuse, New York, along with Washington, D.C., reportedly had an AQI (air quality index) of over 400, which is considered "hazardous" and "unhealthy."
In Philadelphia, Pennsylvania, the AQI was over 200, according to Fox Weather, which was considered "very unhealthy," via the Florida Department of Environmental Protection
According to the department, the drastic air levels can lead to respiratory disease and asthma in active children and adults and all outside exertions should be avoided.
On Tuesday, New York Gov. Kathy Hochul issued an air quality health advisory to fellow New Yorkers who are in the midst of the intense weather changes.
Advertisement - story continues below
Smoke from wildfires in Canada is affecting more than 75 million people — and New York City had the worst air quality of any major city on Earth Tuesday.@WeatherChannel's @StephanieAbrams breaks down when the haze is expected to lift. pic.twitter.com/HdJVvWzT7O

— CBS Mornings (@CBSMornings) June 7, 2023
"When many New Yorkers walked outside today, the hazy skies caused by wildfire smoke were hard to miss. New York State experts are monitoring our air quality every day to ensure New Yorkers have the latest information about current air quality in their communities and what they can do to protect themselves," she said.
Hochul added, "I encourage New Yorkers, especially those sensitive to air quality, to take appropriate steps to help limit risk of exposure."
The smoke-filled skies are expected to last for a few more days brought in by "a slow-moving low-pressure system centered over the coastal region of New England."
"Looking at the air quality concerns, it is a big concern," FOX Weather meteorologist Britta Merwin said, per Fox Weather. "And we're starting to see a trend in the wrong direction."
Advertisement - story continues below
She added, "The prevailing winds are going to be picking up (Wednesday) afternoon and moving from north to south. So that pocket of hazardous air quality is only going to get farther and farther into New York state."
Merwin also urged New Yorkers to avoid spending long amounts of time outside "because that air quality is going to be so poor."
Truth and Accuracy
We are committed to truth and accuracy in all of our journalism. Read our editorial standards.
Comment Down Below
Conversation