News
Heckler Interrupts Amy Coney Barrett at Event — She Responds With Comparison to Her Children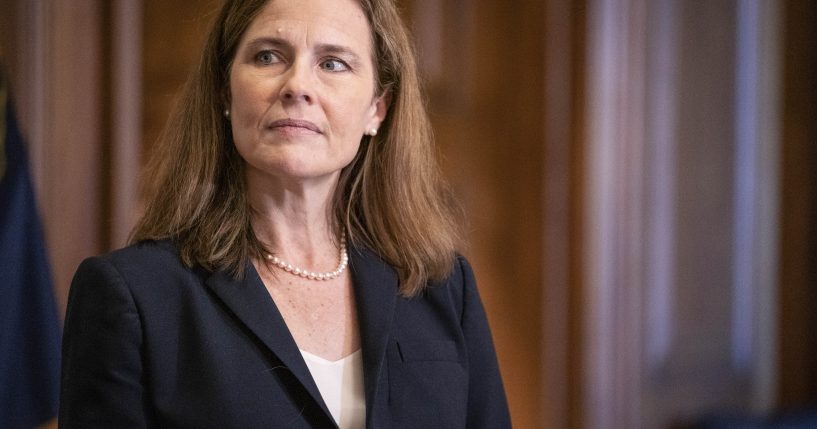 Supreme Court Justice Amy Coney Barrett compared a heckler's interruption during an event to "outbursts" from her children.
On Monday, a heckler could be heard shouting while Barrett spoke at the Ronald Reagan Presidential Library.
They reportedly called Barrett an "enslaver of women."
Advertisement - story continues below
She replied, "As a mother of seven, I am used to distractions — and sometimes even outbursts."
Barrett's remarks come as Judge Ketanji Brown Jackson is expected to be confirmed to the Supreme Court this week.
When asked if there was advice she would offer a new justice, Barrett replied, "I think one of the difficult things that I experienced that I wasn't really fully prepared for, was the shift into being a public figure."
She added, "Also, security is much different now. … We all have security details and that's different."
Advertisement - story continues below
Watch the video below:
Barrett was confirmed to the Supreme Court in October 2020 to fill the seat of the late Justice Ruth Bader Ginsburg.
Touching on her experience of being selected in 2020, Barrett explained, "It all just happened very quickly and it didn't give my husband and I a lot of time to make a decision about whether we would be open to it or not."
NPR noted Democrats pushed back against the advancement of Barrett's nomination so close to Election Day.
Advertisement - story continues below
Senate Majority Leader Chuck Schumer (D-N.Y.) said at the time, "Nearly every Republican in this chamber led by the majority leader four years ago refused to even consider the Supreme Court nomination of a Democratic president on the grounds … that we should wait until after the presidential election because the American people deserved a voice in the selection of their next justice."
He added, "My colleagues, there is no escaping this glaring hypocrisy. As I said before, no tit-for-tat convoluted, distorted version of history will wipe away the stain that will exist forever with this Republican majority and with this Republican leader."
A total of three Republicans said they would support Jackson's confirmation.
Truth and Accuracy
We are committed to truth and accuracy in all of our journalism. Read our editorial standards.
Comment Down Below
Conversation