News
Hillary Clinton Becomes Emotional While Reading Speech She Would Have Made if She Won the Election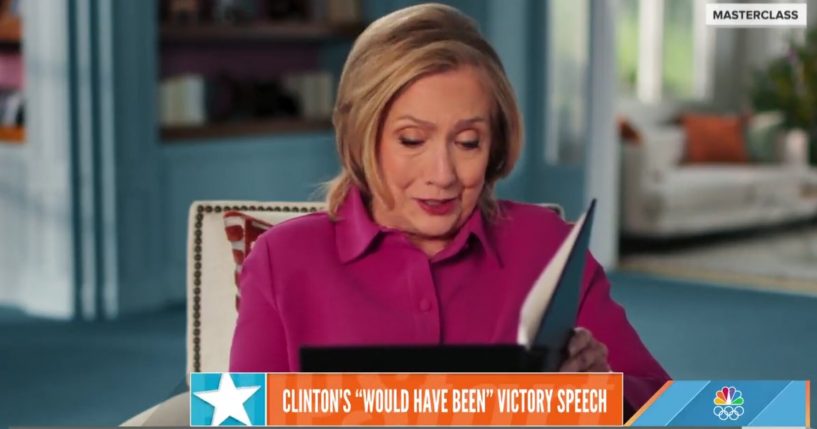 Former Secretary of State Hillary Clinton opened up about the speech she would have given if she won the 2016 presidential election.
NBC's Willie Geist asked Clinton what made her want to sit down and revisit the speech.
Clinton responded, "I wanted to be as helpful as I could to the viewers and to the process of being in a MasterClass."
Advertisement - story continues below
She added, "Even though we had a lot of bumps those last ten days, I still thought, you know, we could pull it out. So I worked on a speech that really was about my journey and had a real emphasis on my mother's life and journey. As a way of making it clear that, yes, I would be the first woman president but I, like everybody, stood on the shoulders and lived the lives and experiences of those who came before us."
During her speech, Clinton became emotional while describing how it would feel to tell her mother she would become president.
"I dream of going up to her and sitting down next to her, taking her in my arms and saying, 'Look at me. Listen to me. You will survive. You will have a good family of your own and three children. And as hard as it might be to imagine, your daughter will grow up and become the president of the United States,'" Clinton said.
Watch the video below:
Advertisement - story continues below
For the first time, @HillaryClinton is sharing the speech she would have made if she had won the 2016 presidential election. Watch more of the conversation on #SundayTODAY with @WillieGeist. pic.twitter.com/iRLbKUGINc

— TODAY (@TODAYshow) December 8, 2021
During her speech, Clinton dove deeper into the significance of becoming the first woman president.
"Today with your children on your shoulders, your neighbors at your side, friends old and new standing as one, you renewed our democracy," she said.
Clinton continued, "And because of the honor you have given me, you have changed its face forever. I've met women who were born before women had the right to vote. They've been waiting a hundred years for tonight."
She addressed the division throughout the country.
Advertisement - story continues below
"If you dig deep enough through all the mud of politics, eventually you hit something hard and true," Clinton said.
She added, "A foundation of fundamental values that unite us as Americans. You proved that today."
Recognizing America as "the greatest country in the world," Clinton continued, "And from tonight going forward, together, we will make America even greater than it has ever been, for each and every one of us. Thank you, God bless you, and may God bless America."
Truth and Accuracy
We are committed to truth and accuracy in all of our journalism. Read our editorial standards.
Comment Down Below
Conversation