News
Hillary Clinton Tears Into Republicans, Says They Are 'Defending Coup Plotters'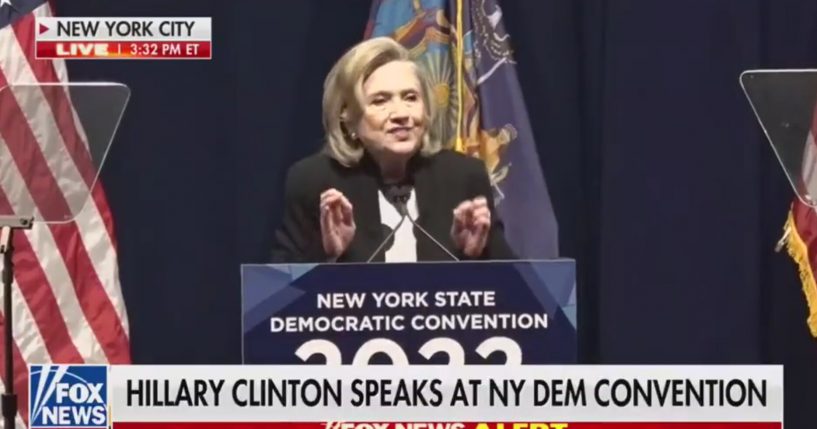 Former Secretary of State Hillary Clinton accused Republicans of "defending coup plotters."
While delivering remarks at the New York State Democratic Convention on Thursday, Clinton mentioned the January 6 Capitol attack.
"Republicans are defending coup plotters. They're curbing voting rights at precisely the moment when democracy needs champions, when we should be standing together against autocracies like Russia and China," Clinton said.
Advertisement - story continues below
She added, "January 6th last year was a gift to them, because they know something we need to remember: America is only as strong as our unity and our democracy allows us to be.
Clinton argued, "New York must be not just the home of the Statue of Liberty. We must be the defenders of liberty, not just a laboratory of democracy, but a protector of democracy. And we must reject the big lie about the 2020 election."
She went on to criticize Republicans for doing "nothing for actual parents or families."
Clinton explained, "Nothing on child care, nothing on paid leave, nothing to help working moms and dads get by and get ahead."
Advertisement - story continues below
Watch her remarks below:
"Republicans are defending coup plotters" — Hillary Clinton, during a speech Fox News is carrying live pic.twitter.com/UgckzUfgWK

— Aaron Rupar (@atrupar) February 17, 2022
Are Republicans "defending coup plotters"?
The former secretary of state continued, "They'll ban books but do nothing about guns. They'll make it harder for people to vote but easier for big corporations to bust unions. They'll let polluters trash our environment and let Donald Trump trash our democracy."
Additionally, during her speech, Clinton criticized former President Donald Trump and Fox News.
"So now his accountants have fired him and investigations draw closer to him and right on cue, the noise machine gets turned up," she said. "Fox leads the charge with accusations against me, counting on their audience to fall for it again. And as an aside, they're getting awfully close to actual malice."
Advertisement - story continues below
Fox News's Sean Hannity commented on the remark during his show.
"Malice, really? It's called news," Hannity said.
He added, "Hillary, we invite you to bring it on."
Forbes noted Clinton's speech aired on Fox News but the network cut away as she began tearing into the network.
Truth and Accuracy
We are committed to truth and accuracy in all of our journalism. Read our editorial standards.
Comment Down Below
Conversation