News
House Narrowly Passes Biden's Build Back Better Act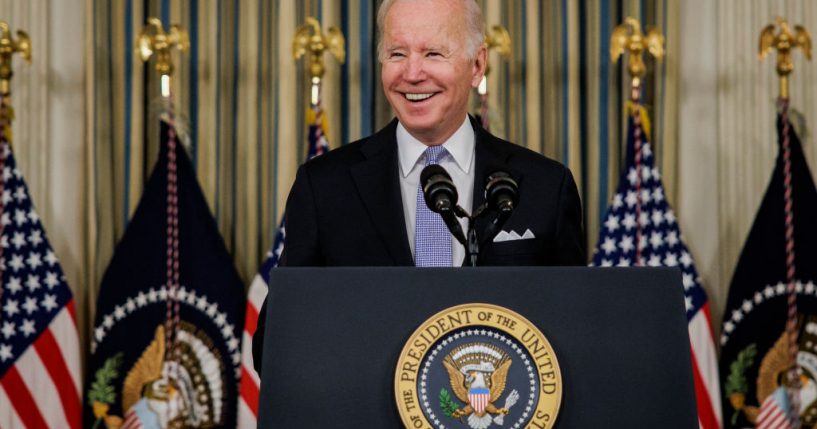 The House has passed President Joe Biden's $1.75 trillion Build Back Better Act after months of negotiations between moderate and progressive Democrats.
In a narrow 220 to 213 vote on Friday morning, Democrats advanced the massive spending package.
Every Republican and just one Democrat, Rep. Jared Golden (D-Maine), voted against the bill.
Advertisement - story continues below
House approves social spending bill

The vote was 220 to 213. 

There was one Democratic nay. Rep. Jared Golden (D-ME). 

All Republicans voted no

— Chad Pergram (@ChadPergram) November 19, 2021
Friday's vote comes after House Democrats struggled for months to reach an agreement between moderate and progressive members on the spending package and a separate roughly $1 trillion bipartisan infrastructure bill, which forced House Speaker Nancy Pelosi (D-Calif.) to delay votes on the measures multiple times.
On Nov. 5, the House passed the infrastructure bill, and Biden signed it into law on Monday.
The Build Back Better Act, a social spending and climate bill, includes provisions to fund universal preschool, access to "high quality" child care, provide affordable home-care for elderly Americans and individuals with disabilities, extend the Child Tax Credit for one year "with monthly payments for households earning up to $150,000 per year."
Advertisement - story continues below
It also provides roughly $550 billion for investments in clean energy and efforts to combat climate change.
Additionally, it extends the Affordable Care Act's premium tax credits and creates a hearing benefit for Medicare.
The bill includes provisions to help offset the expenditures such as a 15% minimum tax on large corporations, a tax on stock buybacks, a "corporate international reform" designed to "stop rewarding companies that ship jobs and profits overseas," and "IRS investments to close the tax gap."
However, the Congressional Budget Office (CBO) found that the bill would add $367 billion to the deficit over 10 years.
Still, The Wall Street Journal notes, "For technical reasons, the CBO's bottom line doesn't include $207 billion in revenue that the scorekeeper estimates would result from pouring roughly $80 billion into tax-enforcement efforts at the Internal Revenue Service.
Advertisement - story continues below
"Adding that revenue to the CBO's other estimates would make the bill's 10-year deficit about $160 billion. The Biden administration says its IRS spending would generate $480 billion," it added.
The passage of the package was delayed for several hours after House Minority Leader Kevin McCarthy (R-Calif.) spoke on the House floor for 8 hours and 32 minutes, as IJR reported.
The bill will now head to a 50-50 Senate where its fate is uncertain.
Truth and Accuracy
We are committed to truth and accuracy in all of our journalism. Read our editorial standards.
Comment Down Below
Conversation