News
House Republicans Introduce Resolution 'Condemning and Censuring' the 'Squad'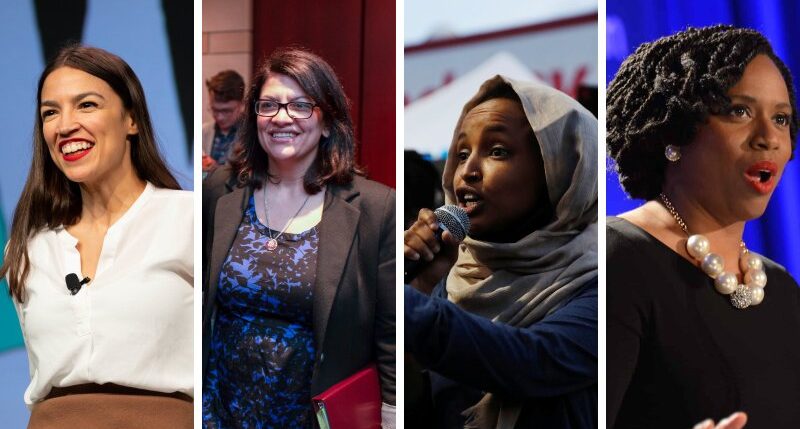 Three House Republicans introduced a resolution "condemning and censuring" members of the "Squad."
Reps. Mike Waltz (R-Fla.), Jim Banks (R-Ind.) and Claudia Tenney (R-N.Y.) accused Reps. Alexandria Ocasio-Cortez (D-N.Y.), Rashida Tlaib (D-Mich.), Ilhan Omar (D-Minn.), and Ayanna Pressley (D-Mass.) of "defending terrorist organizations and inciting anti-Semitic attacks across the United States."
They noted the four Democrats have referred to Israel as an "apartheid state." The Republicans mentioned Omar's latest comments on the United States and Israel, seemingly equating them to Hamas and the Taliban.
Advertisement - story continues below
They also pointed out Tlaib has accused Israel's government of "ethnic cleansing" against Palestinians.
Last week, Rep. Ilhan Omar compared Israel to Hamas. Sadly, this is not the first time members of "The Squad" have used this rhetoric.

I joined Reps. @michaelgwaltz and @RepJimBanks today to censure these Members for defending Hamas & fueling a climate of anti-Semitism. pic.twitter.com/eKNsMWz7w5

— Congresswoman Tenney (@RepTenney) June 14, 2021
"We cannot turn a blind eye to Members of Congress openly defending terrorist attacks by Hamas against our close ally Israel nor their dangerous rhetoric which has contributed to anti-Semitic attacks across the country," Waltz said in a statement.
Banks argued the four Democrats "have repeatedly denigrated America and our closest ally," adding, "Democrat leadership finally responded to their unhinged comments last week—with a press release. Actions speak louder than squishy words. Speaker Pelosi can let members vote on our resolution, or she can cover for the Hamas Caucus and their anti-Israel and anti-American rhetoric. We'll see."
Advertisement - story continues below
Tenney claimed it is "not out of character for 'The Squad,' who have made a habit of trafficking in anti-Semitic rhetoric."
She went on, "Their actions have been completely unchecked by Democratic leadership in the House, even as vile attacks against Jewish Americans are rising. Enough is enough. Anti-Semitism has no place in Congress or the Democratic Party. Speaker Pelosi won't stand up and take action, which is why I'm honored to do so today alongside Congressmen Waltz and Banks.  We are sending a clear message that this type of rhetoric is unacceptable."
Omar announced last week she was receiving threats after saying, "We have seen unthinkable atrocities committed by the U.S., Hamas, Israel, Afghanistan, and the Taliban," as IJR reported.
Axios noted she was referencing International Criminal Court investigations. A group of 12 Jewish House Democrats called her statement "as offensive as it is misguided."
She later defended herself, "Citing an open case against Israel, US, Hamas and Taliban in the ICC isn't comparison or from 'deeply seated prejudice.'"
Advertisement - story continues below
House Speaker Nancy Pelosi (D-Calif.) and other Democratic leaders appeared to denounce Omar's remarks, as IJR reported.
Still, Pelosi told CNN, "We did not rebuke her. We acknowledged that she made a clarification." She also called Omar "a valued member of our caucus."
Truth and Accuracy
We are committed to truth and accuracy in all of our journalism. Read our editorial standards.
Comment Down Below
Conversation