News
Jan. 6 Committee To Seek Phone Records of 'Several Hundred' People – Including Lawmakers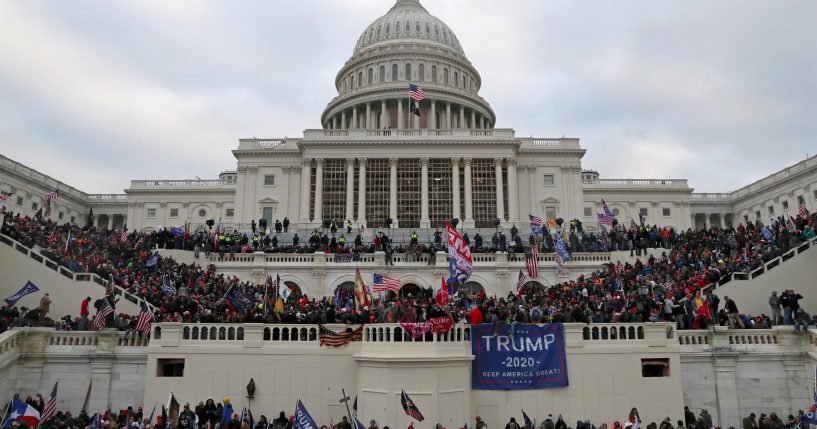 The House Select Committee probing the Jan. 6 riot at the U.S. Capitol is expected to seek the phone records of hundreds of people.
CNN reports that the committee is set to ask telecommunications companies to preserve phone records, which the outlet notes is the "first step in an investigatory process that could eventually lead to witness testimony."
The notices to the companies could be sent out as early as this week.
Advertisement - story continues below
Rep. Bennie Thompson (D-Miss.) told CNN, "In terms of telecom companies, they're the ones that pretty much you already know, the major networks, the social media platforms, those kinds of things."
"I can tell you that we'll look at everything that will give us information on what happened on January 6," he added.
Thompson said that the notices had not gone out yet but that there is a large list of individuals whose phone records the committee will seek, "We have quite an exhaustive list of people. I won't tell you who they are. But it's several hundred people that make up the list of individuals we plan to contact."
Some Democrats have alleged that Republican lawmakers were involved with the riot. After the violence, Rep. Mikie Sherill (D-N.J.) claimed she saw "members of Congress who had groups coming through the Capitol that I saw on Jan. 5 for reconnaissance for the next day."
Advertisement - story continues below
As CNN notes, House Minority Leader Kevin McCarthy (R-Calif.) and Rep. Jim Jordan (R-Ohio) have said they spoke to former President Donald Trump on Jan. 6.
Jordan told CNN, "I've got nothing to hide. I've said that along, I've nothing to hide,"
Should the committee look at lawmakers' phone records?
He said that the committee has not reached out to him to tell him to preserve his records. However, Jordan added that he would comply if the committee told him to preserve his records.
Truth and Accuracy
We are committed to truth and accuracy in all of our journalism. Read our editorial standards.
Comment Down Below
Conversation