News
Jan. 6 Committee Subpoenas 4 Close Aides and Allies of Trump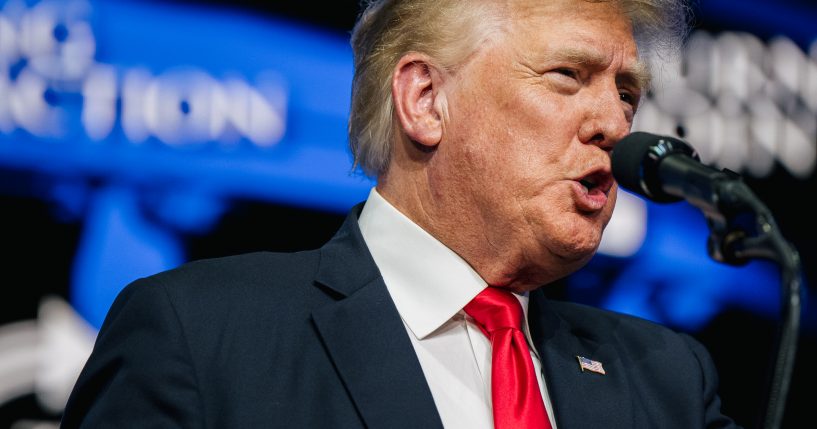 Subpoenas have been issued by the select committee investigating the January 6 riot at the U.S. Capitol to four top Trump White House officials.
According to CNN, former Trump White House chief of staff Mark Meadows, former deputy chief of staff Dan Scavino, former adviser Steve Bannon and Kash Patel, who acted as a former chief of staff to then-acting Secretary of Defense Christopher Miller, are receiving the subpoenas.
The outlet reported the subpoenas are being issued for private depositions and records. The committee is asking Patel and Bannon to appear on October 14 and Scavino and Meadows have been asked to appear on October 15.
Advertisement - story continues below
Chairman of the committee, Rep. Bennie Thompson (D-Miss.), said in a statement, "The select committee is investigating the facts, circumstances, and causes of the January 6th attack and issues relating to the peaceful transfer of power, in order to identify and evaluate lessons learned and to recommend to the House and its relevant committees corrective laws, policies, procedures, rules, or regulations."
Jan 6th committee: subpoenas issued for depositions from Mark Meadows, Dan Scavino, Kash Patel and Steve Bannon pic.twitter.com/57YKcK7HK3

— Jim Acosta (@Acosta) September 23, 2021
The statement pointed out Meadows allegedly communicated with officials in an effort to overturn the 2020 presidential election results. Scavino reportedly was with Trump on January 5 during talks on how to stop the certification of the results.
Defense Department documents showed Patel was involved with talks among Pentagon officials surrounding Capitol security. Meanwhile, Bannon reportedly spoke with Trump in December of 2020, advising him to focus on January 6.
Advertisement - story continues below
The former president issued a statement responding to the subpoenas:
"The 'Unselect Committee' of highly partisan politicians, a similar group that perpetrated the now proven lie of Russia, Russia, Russia, Ukraine, Ukraine, Ukraine, Impeachment Hoax #1, Impeachment Hoax #2, and many other Scams, has sent out Harassment Subpoenas on Jan. 6th so that the Government of the United States can continue wasting time while Russia, China, and virtually every other country that deals with our Nation can continue to 'eat our lunch,' and laugh at the stupidity of what is going on at our Southern Border, and the worst withdrawal from a war zone by any Nation in history—all of this while the Democrats persecute and prosecute Republicans which is, together with Rigging Elections, essentially all they know how to do."
He continued, "We will fight the Subpoenas on Executive Privilege and other grounds, for the good of our Country, while we wait to find out whether or not Subpoenas will be sent out to Antifa and BLM for the death and destruction they have caused in tearing apart our Democrat-run cities throughout America."
In a statement on Thursday, Patel explained he is "disappointed, but not surprised, that the Committee tried to subpoena me through the press . . . before seeking my voluntary cooperation. I will continue to tell the truth to the American people about the events of January 6th."
Requests for documents are due on October 7.
Truth and Accuracy
We are committed to truth and accuracy in all of our journalism. Read our editorial standards.
Comment Down Below
Conversation