News
Jared Kushner 'Exploded in Anger' at a Public Health Official About Mask Shortage: Book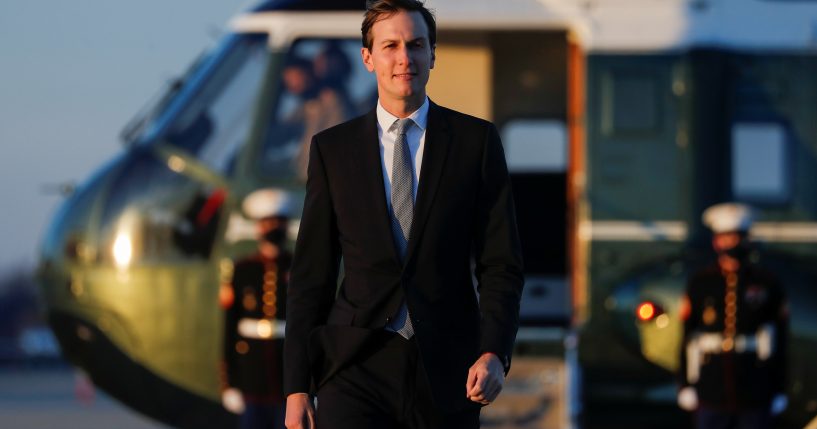 Jared Kushner, Donald Trump's son-in-law and senior advisor to the president, grew angry with a public health official over a mask shortage, according to a new book.
In a report on an upcoming book written by Yasmeen Abutaleb and Damian Paletta journalists for The Washington Post, the outlet notes then-Assistant Secretary of the Health and Human Services Department Robert Kadlec oversaw the purchase of 600 million masks amid the COVID-19 pandemic.
When he approached Kushner in late March with the plan, Trump's son-in-law reportedly "exploded in anger, throwing his pen against the wall in frustration when he learned the masks would not arrive until June."
Advertisement - story continues below
Kushner allegedly told Kadlec, "You f****ing moron. We'll all be dead by June."
The book, "Nightmare Scenario: Inside the Trump Administration's Response to the Pandemic That Changed History," explores the "dysfunctional response to the unfolding pandemic."
According to the book, the former president also suggested sending Americans infected with the virus to Guantanamo Bay, as IJR reported.
While in the Situation Room in February 2020, Trump reportedly asked, "Don't we have an island that we own?"
Advertisement - story continues below
He added, "What about Guantánamo?"
Trump also allegedly said, "We import goods. We are not going to import a virus."
Aides were "stunned" by Trump's statement and "quickly scuttled the idea" when he mentioned it again, as the Post reports.
The Post also mentions that Trump told then-Health and Human Services Secretary Alex Azar on March 18, "Testing is killing me!"
He continued,  "I'm going to lose the election because of testing! What idiot had the federal government do testing?"
Advertisement - story continues below
Azar responded, "Uh, do you mean Jared?"
Five days earlier, Kushner said he would head the testing strategy by asking for help from the private sector.
Truth and Accuracy
We are committed to truth and accuracy in all of our journalism. Read our editorial standards.
Comment Down Below
Conversation