News
Jeff Flake, Cindy McCain Confirmed As Ambassadors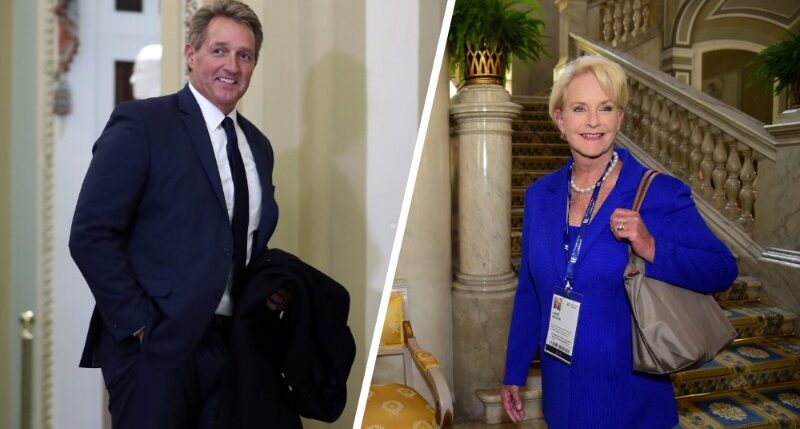 The Senate confirmed Cindy McCain and former Sen. Jeff Flake (R-Ariz.) as ambassadors.
Flake was confirmed as the ambassador to Turkey while McCain will serve as the ambassador to the United Nations Agencies for Food and Agriculture.
According to CNN, McCain's position will focus on "ending global hunger and expanding access to quality foods worldwide."
Advertisement - story continues below
The former senator issued a statement over the summer responding to President Joe Biden's decision to nominate him for the position.
"Given the strategic importance of the United States' relationship with our long-time NATO Ally, the Republic of Turkey, I am honored and humbled by the trust President Biden has placed in me with this ambassadorial nomination," Flake wrote in a post on Medium.
He added, "This is a pivotal post at an important time for both of our countries."
Flake also said the nomination "reaffirms the best tradition of American foreign policy and diplomacy: the credo that partisan politics should stop at the water's edge."
Advertisement - story continues below
Concluding his statement, Flake argued, "U.S. foreign policy can and should be bipartisan. That is my belief as well, and my commitment."
Biden nominated McCain for the role in June, as IJR previously reported.
"I am deeply honored and look forward the work ahead," McCain tweeted in response to the nomination at the time.
Both McCain and Flake endorsed Biden in 2020. Flake said he was not voting for former President Donald Trump because "given what we have experienced over the past four years, it's not enough just to register our disapproval of the president."
He continued, "We need to elect someone else in his place — someone who will stop the chaos and reverse the damage."
Advertisement - story continues below
In September of 2020, McCain announced her endorsement in a tweet.
"My husband John lived by a code: country first. We are Republicans, yes, but Americans foremost. There's only one candidate in this race who stands up for our values as a nation, and that is [Joe Biden]," McCain wrote.
The president responded, saying, "Cindy — I'm deeply honored to have your support and your friendship. This election is bigger than any one political party. It requires all of us to come together as one America to restore the soul of the nation. Together, we'll get it done."
Truth and Accuracy
We are committed to truth and accuracy in all of our journalism. Read our editorial standards.
Conversation