News
Jill Biden Addresses Concerns About Her Husband's Mental Fitness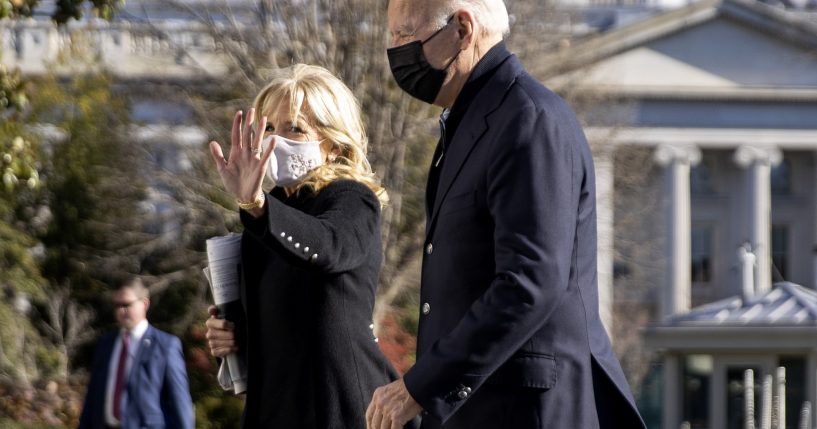 First Lady Jill Biden addressed Americans' questions about her husband's mental fitness.
During an interview with "CBS Sunday Morning," correspondent Rita Braver noted "quite a few Americans" have concerns about President Joe Biden's mental fitness.
She replied, "I think that's ridiculous."
Advertisement - story continues below
Braver also mentioned the president's sinking poll numbers. When asked if it bothers her, Jill Biden replied, "I look at it a little differently."
She explained, "During the campaign, Joe made certain promises, things that he would do. And we were going through a pandemic, which no one could have anticipated. So he did come in and rescue America with the American Rescue Plan. And millions of families got money because they were desperate."
Jill Biden praised the administration for making available vaccines for children ages five and up, adding, "And now with the infrastructure plan, we're going to have roads and better buildings that don't have asbestos, better drinking water."
Check out the interview below:
Advertisement - story continues below
Braver went on to ask the first lady if she believes Americans' opinions will turn around once they comprehend the progress the administration has made.
Are you concerned about Biden's mental fitness?
"I do," Jill Biden said.
A POLITICO/Morning Consult poll published last month found only 40% of voters agree that Joe Biden is "in good health" compared to 50% who disagreed with the statement.
When asked whether Joe Biden is mentally fit, 46% of respondents said he is, while 48% disagreed.
Advertisement - story continues below
The president's poll numbers on different issues are hitting new lows, according to an ABC/Ipsos poll.
Sixty-nine percent of Americans disapprove of how Biden is handling inflation. More than half of Americans disapprove of how he is handling the economic recovery.
Biden's overall approval rating stands at 43%.
Last month, White House Press Secretary Jen Psaki was asked if Biden plans on running again in 2024.
Advertisement - story continues below
"Yes, that's his intention," Psaki said.
Truth and Accuracy
We are committed to truth and accuracy in all of our journalism. Read our editorial standards.
Comment Down Below
Conversation