News
Jim Clyburn Says It Is Time for Republicans to 'Step Away From Cult Worship'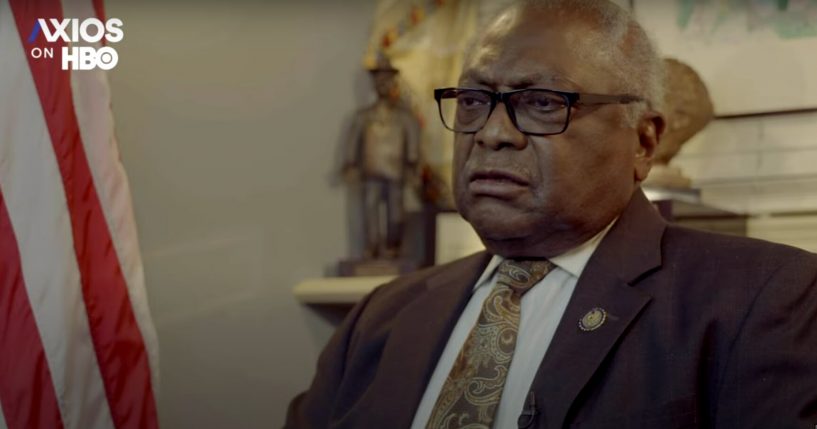 House Majority Whip Jim Clyburn (D-S.C.) says many Republicans are headed for "cult worship."
During an interview with "Axios on HBO," host Alexi McCammond noted Democrats are working to hold those involved in the January 6 riot at the U.S. Capitol accountable.
She also mentioned the voting rights legislation that has stalled in Congress.
Advertisement - story continues below
"Talk to me about what the country will look like if these things don't come to fruition," McCammond said. "If you all can't follow through on this. What will the country look like? What will happen?"
Clyburn explained, "Well, you know, a lot of people got nervous back in 2018…when I said that I did not think that the then-president had any desires on giving up the office."
He added, "I always felt he was part of some movement to establish an autocracy in this country."
Clyburn told McCammond if "these things do not get passed, if we do not protect the vote, if we don't get people back to work, if we don't restore faith in science, this country will become an autocracy. Just that simple."
Advertisement - story continues below
Check out the video below:
When asked how the Democratic Party should change if it cannot deliver, Clyburn said, "I don't think the whole responsibility for the country rests with Democrats."
He continued, "I think it rests with Republicans and Independents. And it's high time that we…think about what's best for this country. If you want to think about what's best for one person, you are teetering on one-person rule. That's an autocracy."
Clyburn said for the Republican Party "to turn the whole party apparatus over to one person means you're no longer a party, but you're now a cult."
Advertisement - story continues below
He went on, "It's time for the right-thinking people in this country to step away from cult worship. That's where a lot of people are headed."
The House majority whip also told the outlet he believes Senate Democrats will "come up with some way" to get around the filibuster to pass voting rights legislation.
Truth and Accuracy
We are committed to truth and accuracy in all of our journalism. Read our editorial standards.
Comment Down Below
Conversation